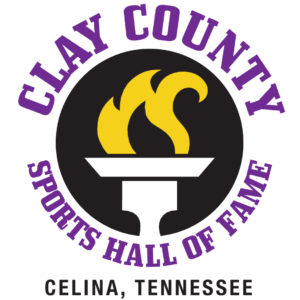 CELINA-Twenty new members of the Clay County Sports Hall of Fame (CCSHOF) will be enshrined during ceremonies later this year, set for Sat. Dec. 3rd at the Clay County High School cafeteria. After the banquet, inductees will be introduced at halftime of the CCHS vs. Sunbright girls basketball game.
Like the initial group inducted last fall, the class of 2011 includes a cross-section of older and younger members who excelled as either players, coaches, administrators and support people. Sixteen "regular" members, which includes athletes and coaches, were voted in, along with two "heritage" members and two "contributors."
"Heritage" members are people whose careers were largely based at least 50 years ago, while "contributors" are administrators or people who were involved in some capacity besides coaching or playing. The HOF By-laws assure that there will always be two "Heritage" members in each class. Contributor members will be included also (based on available nominations).
The induction ceremony and dinner will be held sometime during the early part of the high school basketball season–before a scheduled doubleheader, and the inductees will be honored during halftime of the first game.
The honorees are:
Heritage Members
• Joe Neal Eads-An outstanding athlete and coach, he was the star running back on the Celina High School football team that participated in two Tobacco Bowls in the 1950's. He also had a great career as a football coach at Celina, where he influenced and benefitted the careers of many great student athletes.
• Darlene White Masters-A 4-year starter for one of Celina's best girls' basketball teams ('49-'53), she was known for her long set shot and great speed. She led Celina to the Regionals at Tennessee Tech. Darlene was All-District '52, '53 and All Regional in '53.
Contributors
• Billy Melton-A 1954 CHS graduate, Billy has been an officiating institution in Middle Tennessee for more than six decades. He began is officiating career in 1957 and was the founder, supervisor and commissioner of the North Central Basketball and Football Assoc. He is a member of the TSSAA Hall of Fame and has been a mentor to many officials who have moved on to the NCAA.
• Bobby Bartlett-A bus driver, teacher and outstanding coach at Celina K-9, Bobby's jr. high basketball teams had a remarkable record of 300-24 and included state championships. Later he coached in high school in a career than spanned 31 years. He continues to be involved with sports, keeping the game clock at home CCHS games. He was the first black coach in the Upper Cumberlands.
Athletes
(in alphabetical order)
• Teia Burchett Adams-An outstanding two-sport star athlete, Teia was a 3-year starter on the basketball team and 4-year starter on the softball team. Her sophomore, junior and senior year she was All-district, All-region, All-state tournament, signing to play in college at Columbia State. She is the only female player to be on three All-State Tournament teams in school history.
• Brian Burchett-A three sport standout at Celina High School, Brian is Clay County's only athlete to be a Mr. Football finalist. He was named All-State, All-Midstate, District MVP, All-District, and led the state in interceptions (Class A) the same year he was named All-State as a wide receiver. He was a 4-year starter in both football and basketball.
• Tammy Vaughn Cardona-An outstanding forward on the Celina High basketball team, she was a 4-year starter (1960-'64) for Coach John Teeples. Tammy earned All-Conference, All-District, All-Region and All-State honors at a time before classification. In 1964 Celina's record was 25-3. She also won the Athletic Medal given at graduation in 1963 and 1964.
• Donnie Cherry-Spending his entire coaching career at Hermitage Springs, Donnie's career began in 1973. He has coached elementary, jr. high, and high school, winning over 300 high school games in his career. But he is best known for his 1977-78 boy's team which made it to the Sub-State. He also served as a baseball coach and umpire, principal and today serves as the Director of Schools for Clay County.
• Jeff Clements-An outstanding athlete, Jeff was known primarily for his  skills as a member of the Hermitage Springs Basketball team (1977-'81). He averaged 19 points his senior year and made All-District, All-Conference, All-Region. He also played baseball four years and went on to play two years on the Martin College basketball team. He also played golf and tennis for Martin. He organized and coached T-ball, Little League, Babe Ruth and girls' softball.
• Gary Davis-A four-year starter on the CHS football and basketball team, Gary holds the record as the all-time leading ground gainer in Celina High School football history. His 4,274 yards  and 51 career touchdowns helped him to earn a full scholarship to Middle Tennessee State University where he became a starter and was named First Team All-OVC as a receiver his junior year. He also was a prolific scorer and rebounder for the Bulldog basketball team, once scoring 45 points.
• Kenneth Hamilton-A 1955 graduate of Celina High School, Kenneth was a star athlete in both football and basketball, being named to the prestigious All-Midstate team chosen by the Nashville Tennessean/Banner. He was a major player in the first two Tobacco Bowls in Hartsville. He was honored with numerous All-District, All-Conference teams back when there was no classifications.
• Lauretta Rich Hill-One of Celina High School's most outstanding basketball players from the old 3-on-3 era, Lauretta was a high-scoring forward for some of Coach Teeples' best teams. She scored 44 points in one game and averaged 20.0 points as a senior. She earned many post-season awards including the prestigious All-Midstate to go along with All-District, All-Region. Like others from that era, she played before classification in old District 15.
• Jimmy "Crank" Hull-One of CHS' all-time great football players, Jimmy went on to start at Tennessee Tech. As a senior, Celina's football team went 11-3 behind Hull's heroics, making it to the state semi-finals which included a victory at Knoxville Catholic. He led the entire state, all classes, in scoring his senior year with 28 rushing TDs and 228 points overall (he was also a kicker). He also averaged 35.2 yards per punt and played cornerback on defense. At Tech Jimmy lettered in three seasons for then Coach Jim Ragland. He played tailback, punter and place-kicker.
• Judy Boone Jones-Breaking into the starting line-up in her second game her freshman year, Judy was a four-year starter in basketball during Celina's early glory years (1960-'64), never missing a game. She earned All-District 4 years, All-Region 2-years, All-Midstate 2-years as her teams won the District three years in a row (62-63-64). A defensive specialist, she never scored a point, playing in the 3-on-3 era.
• Kelly Spivey-An outstanding basketball player Kelly also excelled on the baseball diamond, eventually earning a scholarship to play both sports from Aquanis Jr. College. He averaged 23 points as a senior and earned many post-season honors during his career, including All-Conference, All 5-A Tournament teams. He played for Celina High School from 1989-1993 and scored 1700 points in his basketball career.
• Doug Strong-A three-year basketball standout, Doug earned numerous post-season honors including All-Conference, All-District and All-Tournament as a sophomore, junior and senior. He as also named to the Nashville Banner's All-Midstate teams as a junior and senior. He scored 2,635 points in a career, like many others here, that was before the 3-pointer was used. He received the Carmon Brown award as a senior. Also had career as sports referee including umpiring in TSSAA State Tourneys.
• James Trobaugh-A prolific scorer and rebounder throughout his career, James left his mark on the basketball court after establishing himself as one of the all-time greats in a storied career at Celina High School in the 1970's. A true post player, he averaged double figures all four years, including 17.8 ppg and 21.8 ppg his Junior and senior years. For his career, he averaged 16.4 points and 10.0 rebounds, once pulling down 26 rebounds in a game.
• Danny Watson-A two-sport standout for Celina High School (1961-'65), Danny was a three-year starter on the basketball team where he was named All-District twice, All Upper Cumberland twice, All-Midstate by the Tennessean/Banner, and All-State. In football, he was a two-year starter and earned All-Midstate from the Nashville papers (before classification). He turned down a football scholarship to Austin Peay to play basketball at Walker Jr. College in Jasper, Alabama.
• Harold Watson-In a career as both a player and a coach that spans 50 years, Harold has been involved in sports since he was at Celina Elementary. He served as the captain of both the football and basketball teams his senior year (1955-'59). He attended Tennessee Tech and lettered in both football and track. He began his coaching career at Hermitage Springs and later coached basketball and football at CHS. He developed outstanding teams and players as a coach and enjoyed a successful career as a high school basketball referee.
• David Westmoreland-One of the most decorated 2-sport athletes in Celina history, David was first team All-State in Baseball (1984), played in the Tennessee East-West All-Star Game, pitched four career no-hitters and started on the Connie Mack All-Star team from Cookeville. A three-year starter in basketball, was All-State, All-Midstate, All-Region, All-District on team that went 37-1, known for his tenacious defense. Signed basketball scholarship with Vol State, was 2-year starter. Named All-State Tournament 13 times in Softball (post-high school).
Sponsors
We want to recognize our sponsors for the Induction Banquet. For the second straight year, Hall of Fame sponsors are: Celina Lumber Company (Mr. and Mrs. Danny Nevans); Dale Hollow One Stop (Mr. and Mrs. Stephen Headrick); Happy Sak (Mr. and Mrs. Todd Lynn); and Scott's Bestway (Mr. and Mrs. Jeff Scott). Tickets are also available from these four sponsors and from Clay County Bank.
Watch the Dale Hollow Horizon newspaper and this web site for more news about the Clay County Sports Hall of Fame. Tickets will be for sale and the event and the public is urged to attend and support your Hall of Fame inductees.