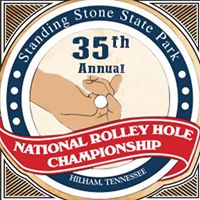 STANDING STONE PARK-The "World Famous" National Rolley Hole Marbles Championships & Music Festival includes world class marble competitions, marble making exhibits & demonstrations, marble vendors & swap meet, kids marble games & festival, food, and much more. The music and entertainment line up for The 35th Annual National Rolley Hole Marbles Championships & Music Festival here Saturday, September 16 features Uncle Shuffelo & His Haint Hollow Hootenanny. Also performing at the festival will be the Rockdale Ridgerunners, Avery Trace, Lonesome County Line and Kentucky Just Us. Also scheduled are Trenton Caruthers, Mike DeFosche, and Conner Vlietstra. There will also be a tribute to the music of the late blues musician and marble maker Robert "Bud" Garrett, with special sets by Robert Eskew.
"The setting is spectacular, admission is free, and the talent line-up is top notch with a combination of great music artists, great marble making artists, and the world's greatest marble players, this really is a special one-of a kind event," said Standing Stone State Park Ranger Shawn Hughes. "
For more information call the Standing Stone State Park Office at 931-823-6487, visit website http://tnstateparks.com/parks/about/standing-stone , or visit the Standing Stone State Park Facebook Page at www.facebook.com/StandingStoneStatePark.