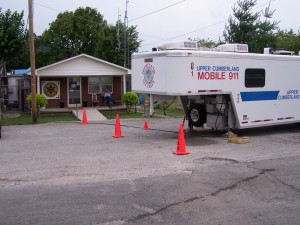 Homeland security trailer serves as temporary dispatch
By THOMAS P. WEAVER
HORIZON Editor
CELINA-The curiosity got the best of many residents here last week as they passed by the Clay County Sheriff's office due to the large trailer parked outside the 911 dispatch.
Those wondering saw that the temporary structure was marked with "Homeland Security" and sheriff Brandon Boone told the HORIZON Monday he had received several inquiries about it.
"Everybody's been asking what was going on down here," Boone said.  "I just want everybody to know what was really happening."
Boone said the trailer–which is available to dispatches across the Upper Cumberland in case of emergency–was on site in order for his operations to continue as upgrades were made to the county's 911 dispatch.
"The trailer is available in case of a disaster or shutdown of a 911 center or in cases like ours when the center needs to be taken offline in order to perform upgrades to the equipment," Boone explained.
He said dispatchers used the trailer for two days while upgrades were being made to the county's dispatch.  He also said electrical issues cited recently by the State Fire Marshall were also brought up to code at the same time.
Clay County 911 director Beth Moulton said the dispatch received a new touchscreen computerized radio console as a part of a federal Homeland Security mandate that had to be met by the year 2013.
"The upgrade was a step towards moving to the new narrow-band system the FCC (Federal Communications Commission) will require by January 1, 2013," Moulton said.  "Our system was outdated and some of the larger cities have already gone to narrow-band.
"With this upgrade we are on our way to doing the same thing."
Boone said the setup of the mobile dispatch trailer took some time and Moulton offered gratitude to Twin Lakes Telephone Cooperative, Robert Craighead of C-1 Services, and her fellow 911 director from Putnam County, Randy Porter and his staff, for helping bring the temporary dispatch online.
"We couldn't have pulled this off without their help," she said.  "Thanks to everybody's hard work, everything went off without a hitch."