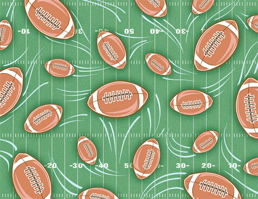 Teia Adams holds a two-game lead for the fourth and final spot in the regular season finale of the HORIZON Peerless Pigskin Prognosticators. 
She holds that edge over a pair of panelists, including the defending champ, and has a three-game lead over the seventh picker. After this week, the field of seven will be pared to four (and ties, which is definitely possible), and those panelists will battle it out for the title.
Thomas Watson retook the lead from Brian Burchett, who suffered through a 7-8 week, and is now in third place, a game behind his brother, Brent. Watson and Brent tied for the best record of the week (10-5), as the NFL games took a toll on all the progs. Watson leads Brent by a single game. 
The top three would appear to be in comfortable shape to qualify for the post-season picking, with Adams five games back of brother Brian. Gaps like that have not historically been made up in a single week. 
Adams, defending champ Michael Miller and the Strong brothers–Mark and Gary–all went 9-6 last week in perhaps the most tightly-grouped week of the season. Just three games separated the field in wins.
The pickers, with the exception of Brian Burchett (5-5 after 10 games), went into the NFL games in good shape, but the bottom fell out there. Two wins and three losses was the best anyone did in the pro games, and three pickers went 1-4. Gary Strong's pick of Carolina over Atlanta probably saved his shot at making the post-season, as he picked up a game on the field with that lone wolf choice. 
The panelists who make the playoff cut will have one more week of five games each in high school, college and the pros, and then the picking will be a hodge-podge up until when the bowl games are announced. 
The pickers will be asked to choose their winners in 25 or 30 of the bowl games, and we will all (or at least some of us) wait with eager anticipation for the winner, which might not be apparent until after the BCS championship.