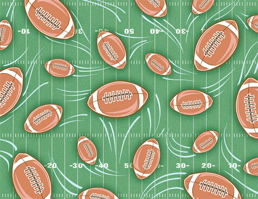 The Horizon Peerless Pigskin Prognosticator race got a little closer heading into the final picking, thanks in large part to a perfect 10-0 mark by Teia Adams.
Adams ran the table in the all-NFL games, which was an interesting feat, considering six visiting teams were winners in the ten featured contests. 
In the process, she edged by Mark Strong by a game for fourth place, and Strong inched a game closer to leader and brother-in-law Thomas Watson, with the spread being seven games from top to bottom heading into the final pickings. 
Strong went 8-2, while Watson and brothers Brent and Brian Burchett each went 7-3. Brian trails Watson by two games and Brent trailed by four games heading into the whopping, 30-game NCAA bowl finale. 
The pickers all won the first four games in last week's 10-game slate, and it was a mixed bag for everyone besides Adams the rest of the way. 
The prognosticators have an opportunity to make up, or lose, a lot of ground in the bowl games over the next three weeks. It could be that some panelists are eliminated from contention before the final stretch of games. Time will tell. 
Last year's champ Michael Miller, who finished just one game out of the playoffs this season, made up five games during the bowl season last year to take the title. 
The winner will be announced in the issue following the national championship game. Until then, you'll have to keep up with it by yourselves.