CELINA-A handful of witnesses were treated to a rare sight here on the banks of the Obey river two weeks ago.
Captain Ron Beberniss and pilot Ron Cowan recently arrived here aboard a 53-foot, trawler-style, hand-built, wooden boat named Annie.
After beginning near Florence, AL 16 days earlier, the pair traveled down the Tennessee and up the Cumberland rivers to anchor in the Obey here at Donaldson Park's boat ramp.
Beberniss and Cowan walked to the Celina square where local antique shop owner Johnny 'Booger' McLerran learned their story and alerted the HORIZON.
After being interviewed at the newspaper's office, the 'rivermen' were given a ride back to their vessel where they treated onlookers with tunes from a calliope installed on the top deck.
The voyage
The trip covered approximately 500 miles, included a three-night stop in Nashville where the men's wives met them to enjoy the Grand Ol' Opry, and featured an overnight at Granville to experience the Saturday night bluegrass music at the Sutton General Store.
Gainesboro was the next stop on Sunday. The two men climbed muddy banks and walked to the square, where they enjoyed the unique atmosphere.
"No matter which way we went around that square it was an uphill trip," Cowan said with humor. "We thought that was interesting."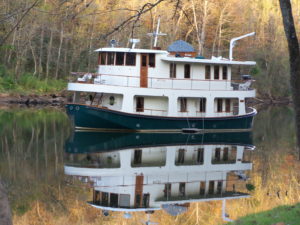 A broken bracket on one of the twin diesels that power the boat caused them to anchor for the night just above the mouth of the Roaring river.
The next morning, Beberniss removed the bracket and climbed the bank to the Neilson factory whose shop personnel welded the broken part, allowing Annie to continue her journey up river to their final destination here.
The boat
Beberniss, with help and support from his wife Carol, built the wooden-hull craft over a period of 16 years while living near Houston, TX and practicing medicine as an emergency care physician.
He built the hull and decks, and furniture and trimmings turning every screw and even planing boards himself.
After launching the boat from League City, TX, a trip along the coast of the Gulf of Mexico, into Mobile Bay, and up the Tennessee-Tombigbee Waterway led to Florence, where Ron and Carol now make their home.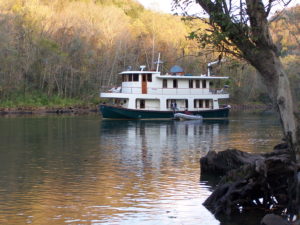 Cowan and his wife reside in Athens, AL and are frequent travel companions of the Bebernisses.  Living close together, both men use Florence as a base to explore the rivers of the eastern United States.
Pictures of the interior of the boat can be seen by clicking here.