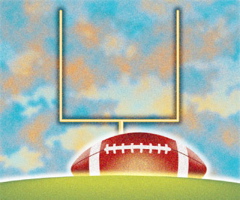 The Peerless Pigskin Prognosticators had to swallow a big dose of medicine this week.
After cruising through three relatively good weeks, the pickers took a hit to their pride last week.  That blow was dealt out, surprisingly, through their picks in the five high school contests. 
Brent Burchett's two losses in five games was the best record among the progs in the TSSAA games, with three pickers losing three, two losing four, and another all five. 
Things improved for the pickers in the college and pro games, but that rocky start saddled them with their worst collective week of the young season. 
The good thing for all concerned is there was no drastic movement in the standings, which had all the pickers within two games heading into the week. The spread is now four games from top to bottom. 
Last week's tri-leader Brian Burchett used a 9-6 mark to retain a share of the top spot, which he now holds with brother Brent Burchett, who had the best week of the pickers at 10-5. Brent used "lone wolf" choices of DeKalb County over York and Miami over Oklahoma to grab a share of the lead.
Three pickers are tied for third, two games back. Defending champ Michael Miller went 7-8 (as did Teia Adams), and is tied with Mark Strong and Thomas Watson, both of whom had 8-7 weeks. Strong got off to a rough start, losing all five high school games, but then won eight of 10 after that, including his lone pick of Jacksonville over the stumbling, bumbling Titans, who were handed a humbling defeat. 
One of last week's leaders, Gary Strong, is next (three games back) after going 6-9. He was the only picker to incorrectly choose Cleveland over the Bengals, who won with just seconds left in OT. Adams is four games back.