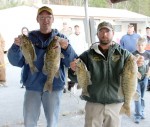 By THOMAS P. WEAVER
CELINA-Another epic smallmouth-only tournament was held here at Horse Creek Resort on December 3-4 and this year those on hand witnessed a history-making weigh-in with heavy weights, big numbers, and an over-$8,000 purse from an 81-boat field, along with an occurrence that has only happened one other time on Dale Hollow Lake.
The champions of the 29th Annual Horse Creek-Billy Westmoreland Memorial Smallmouth Invitational, Robert Brownlee and Scott Brummett of Nashville, carried a 4-fish limit to the scales on Saturday–a feat accomplished only one other time back in 2006 by tournament winners Matt Myers and Kelly Ricker. Brownlee and Brummett zeroed on Sunday, but their pair under 16 inches and twin four-pound 21-inchers tipping the scales at 12.21 pounds the first day was enough to secure the win and the $2,736 first-place purse.
Coming in a close second were Darrell Foster and Tim Hayden of Bristol. They had their two 'unders' the first day and opened eyes on Sunday with a three-fish bag weighing in at over eight pounds, 5.16 pounds of which came from the second-day big fish that netted them an additional $810. Their two-day total of 12.03 pounds handed them the runner-up spot and the second-place money worth $1,520. Gary Saunders and Greg Engle of Gallipolis,
OH notched third place on the final board thanks in part to the heaviest smallmouth of the tournament–a 5.25-pound brute that won them the first-day big fish award worth $810. It, paired with two under 16 inches Saturday, and another pair of 'unders' at the final weigh-in brought their total to 11.89 pounds allowing them to pocket $912 as the second runner-up.
Fourth place and $608 was snatched up by the team of Matt Alliston from Louisville, KY and Jason Ramsey from Speedway, IN. Despite only having two small fish weighing in at 3.34 pounds on Saturday, the duo finished in the money after catching an 'over' weighing 3.91 pounds and two more just shy of 16 inches the last day to total 10.69 pounds.
The final paid position was claimed by Ellis Bevill of Chattanooga and Jamie Lawson of Jacksboro. They sat in third place on day one with a three-fish sack weighing 7.64 pounds (4.90-lb. 'over'), but slid down the final leaderboard to fifth after blanking on Sunday. Fortunately, the weight was enough to net them $304 for finishing in the top five.
Don Lowe and Johnny Arnold of Bristol finished just out of the money in sixth place with a heavy foursome of 'unders' weighing 7.59 pounds, and the following made up the rest of the top 10: •
7th-David and Don Cruser of Fortville and Greenfield, IN, 4 fish, 7.35 pounds; •
8th-Eddie Nuckols of Jonesborough and Dave Lisenby of Kingsport, 4 fish, 6.99 pounds; •
9th-Ron Estep and Jerry Gee of Grayson, KY, 3 fish (4.17-lb. 'over'), 6.95 pounds; and •
10th-Brian Hatfield of Ashland, KY and Andrew Hanson of Tomahawk, KY, 4 fish, 6.93 pounds
Another angler was recognized for his efforts after final weigh-in and given some Billy Westmoreland memorabilia despite not making the top 10. Nine-year-old Zeke Gaffney of Crab Orchard, KY, was the youngest angler to compete in this year's event and he carried three fish under 16 inches long to the scales he caught while fishing with his father Josh–a feat drawing the additional honor.
Final numbers showed over 150 smallmouth weighed adding up to a total of over 250 pounds, with a total of seven big fish over 21 inches long in the two-day tournament, evidence of the continued reign of the lake as the "Smallmouth Capital of the World." The tournament is unique and only fished by a select group, because participants must reside at least 100 miles from Horse Creek and the event is 'invitation-only' with a closed list. Next year's tournament will mark the 30th anniversary of the event founded by Westmoreland and Horse Creek owner Jack Huddleston, and it will honor the 10th anniversary of the death of the smallmouth legend. Horse Creek offered their thanks to all participants, helpers, and supporters of the 2011 tournament affectionally known to its patrons as "The Billy." For more about Horse Creek, visit them online at www.horsecreek-resort.com.
This story and more pictures also appears on Smalljaw.com.