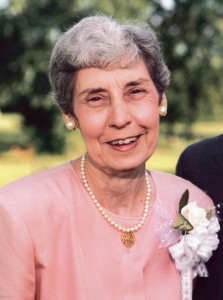 Bonnell Christine Ferguson, 86
CELINA-Funeral Services for Bonnell Christine Ferguson, of the Oak Grove Community of Clay County, were held on Sunday, March 13, 2011 at 2:00 p.m. from the Chapel of the Upton Funeral Home with Hubert Jones officiating.  Her cousins and friends who served as Honorary Pallbearers all wore pink ribbons as Ms. Bonnell was one among many who had coped with the diagnosis of breast cancer during her lifetime.   Laith Alwan, Billy Smith, Mark Asberry, John Landon Painter, Jason Painter, Mike Ethridge, and George Melton served as Active Pallbearers.  She was laid to rest at the Rob Draper Memorial Cemetery.
Ms. Bonnell Christine Ferguson, age 86, passed away on Friday, March 11, 2011 at The Palace in Red Boiling Springs, where she had been a resident for several months.  Her devoted daughter was by her bedside most of that time.
Born in Jackson County, Tennessee on May 10, 1924, she was one of two siblings born to the late Lingsey and Mamie (Watson) Painter.  She was married twice, first to Eugene Smith and second to Willard Ferguson, who both preceded her in death.  After graduating from School, she taught school and was a Principal in the Jackson County School system.  She later worked in the insurance business for about ten years.  After she remarried the second time, they moved north and she operated a candy shop.  As always, women her age were taught at a very young age to help with the chores when growing up and could all make beautiful things with a needle.  Part of that heritage was learning to make pretty quilts which she particularly loved to do.   She was a good wife, mother, and grandmother.  If Ms. Bonnell had something that she thought needing saying, she was known to speak up and say it.  No one seemed to mind because in most instances, she would be right.  She was a member of the Union Hill Church of Christ.  She is survived by her daughter, Jean Taylor Smith of the Oak Grove Community in Clay County, TN, granddaughter, Lisa (Laith) Alwan, great-grandchildren, Cassidy and Channing Alwan, all of Montgomery, AL, brother, Taylor Painter of Whitleyville, TN.
Arrangements by Upton Funeral Home.