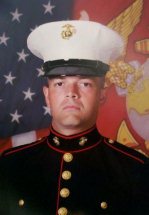 PARIS ISLAND, SC-Pvt. Chris Boone, a 2003 graduate of Hermitage Springs School, father of Addison Boone and son of Marilyn Boone and Wayne Boone, recently graduated from the United States Marine Corps Boot Camp at Parris Island SC after completing intensive training in Marine Corps history, martial arts, rifle marksmanship, physical fitness, and Marine Corps core values.
Boone finished 1st class in his physical and combat fitness tests, and qualified as a rifle expert.
Boone will attend Marine Combat Training at Camp Lejune NC for one month and will then transfer to Florida for Military Occupational Specialty training in Aviation Mechanics.