NASHVILLE – Governor Phil Bredesen Monday unveiled his proposed budget for Fiscal Year 2009-2010 in an address to a joint session of the General Assembly. The multi-year proposal outlines the use of approximately $5 billion in federal funds provided by the American Recovery and Reinvestment Act within an overall framework of declining state revenues. 
"This budget is presented in an economic environment more difficult than any we have been through since the Great Depression. We are on the one hand faced with an unprecedented downturn in state revenues; on the other, we temporarily have unprecedented amounts of federal cash coming from the President's economic Recovery Act," Bredesen said. 
"This so called 'stimulus' package is not a silver bullet – what it does is buy us time. What I am trying to achieve with this budget is sensible, conservative long-range fiscal stewardship; to recognize these funds for the one-time help that they are, and to use them wisely and compassionately, and most of all, when this recession is over, to leave our state looking to the future strong and independent." 
Bredesen stressed the importance of stewardship in the state's approach to the budget and use of Recovery Act funds. 
"Just as each generation in America works to make life a little better for the next, each governor, each General Assembly – when they're at their best – strives to leave our state a little better," Bredesen said. "We have made some great strides together, but the greatest test of our stewardship begins tonight."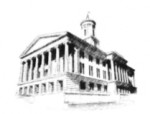 The four-year proposal addresses plans for closing out the current budget year, details the $29.34 billion budget for Fiscal Year 2009-2010 – of which $11.48 billion is state dollars – and outlines state spending for the two subsequent budget years.  Governor Bredesen's proposal: 
• Protects education by fully funding the Basic Education Program, the state's funding formula for K-12 education, in each year; 
• Ramps down spending in the discretionary and non-BEP areas of the budget to achieve a reduction of approximately 12 percent on average at the end of the four-year period; 
• Saves jobs by limiting layoffs and defers the need for possible furloughs, as Recovery Act funds provide more time to plan reductions and realize reductions made through natural attrition; 
• Fully funds the economic development projects currently underway; 
• Keeps the employee pension fund actuarially sound and the state health insurance program fully funded; and, 
• Maintains healthy cash reserves while ramping down state spending to achieve continued balanced budgets that match recurring revenues to recurring expenses. 
The Governor's address included an overview of Recovery Act funds for Tennessee. The federal legislation clearly directs approximately $2.9 billion of the total, or approximately 58 percent, for pre-determined purposes intended primarily to alleviate suffering and stimulate the economy. Examples include $490 million for the food stamp program, an additional $318 million for unemployment insurance, and $573 million for road and bridge infrastructure. 
"While these are programs we technically administer in various ways, they do not directly affect the discretionary state budget except insofar as they improve the general economy," Bredesen said.  
Some of these funds pass through the Tennessee state budget, while others are paid directly to non-state agencies, including $524 million that will be paid directly to local school districts primarily based on their proportions of low income and special education students. 
The remaining Recovery Act funds, totaling approximately $2.1 billion, more directly aid the state budget over a two-year period. A little more than half of that comes from the federal government temporarily shouldering more of the costs of TennCare, the state's Medicaid program, so state dollars can be used to protect important programs elsewhere. The rest comes from a direct appropriation of fiscal stabilization funds, primarily in support of education.  
Of this $2.1 billion in Recovery funds for Tennessee, approximately $500 million goes directly to higher education while the remaining $1.6 billion is available under various rules to help balance the state's budget and help state agencies transition to the smaller budgets they will have in the future. 
Bredesen's four-year budget plan carries the state's financial planning forward into the first budget of the next governor's term. 
"It is important to me to not leave to my successor, or the next General Assembly, a budgetary cliff to fall off," said Bredesen. "I take the idea of long-term stewardship – financial and otherwise – seriously, and leaving the state in good shape is very much a part of that concept for me." 
Bredesen's budget address and his proposed FY 2009-2010 budget can be found at www.TN.gov.