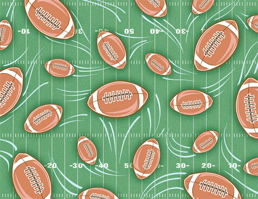 Let the thinning out begin.
The 2009 Peerless Pigskin Prognosticators were tightly bunched in probably the closest race in the panel's six-season history heading into last week's picks, but that is no more.
Solo leader Brian Burchett posted a sparkling 13-2 mark that has separated the field to a nine-game spread heading into the last two weeks of the high school regular season. The biggest spread from top to bottom prior to that had been four games.
Burchett gave a foreshadowing of things to come with a 5-0 high school mark, capped by his pick of Livingston over York (Gary Strong got that one right, too). He then lost only one game in the college games and the NFL games, capping the pro picks with his solo choice of Kansas City over Washington. His brother Brent had the next best week at 11-4, good enough for second place, three games back. Defending champ Michael Miller and Gary Strong each went 10-5, while Mark Strong went 9-6. Last week's co-leader, Thomas Watson, and Teia Adams each went 8-7. They each lost four NFL games after respectable starts. 
Watson is now in solo third place, five games back of the leader, while Miller and Gary Strong are tied for fourth, six games out. Mark Strong is next, seven games out, while Adams is seventh, nine games back of her brother. 
The Burchett/Adams clan is six games ahead of the Strong/Watson family, with a 174-96 total record (64.4%).  As mentioned before, the field will eventually be narrowed to four final panelists, who will compete for the title in the playoffs.