LIVINGSTON-The victorious Clay County Bulldogs, who wrapped up another district tournament title Tuesday night, also dominated the all-tournament team, placing five team members on the squad, including the most valuable player.
Bulldogs (pictured here) Nolan Dale, Shawn Garrett (MVP), Nathan Knight, Scott Brown and Tyler Edwards made the team. They were joined on the team by three players from Clarkrange, two from Jackson County and one from Monterey.
District 7-A all-tournament team members were:
Tyler Edwards–Clay County, 
Steven Jones–Clarkrange,
Michael Buckner–Monterey,
Jordan Godwin–Jackson County,
Scott Brown–Clay County,
Jake Alderman–Clarkrange,
Jared Robinson–Jackson County,
Nathan Knight–Clay County,
Brandon Upchurch–Clarkrange,
Nolan Dale–Clay County, and 
Shawn Garrett–Clay County (MVP).
Girls team
The Clarkrange Lady Buffaloes dominated the District 7-A all-tournament team announced here Monday night following the tourney conclusion, with the third-place Lady Bulldogs landing two players on the team.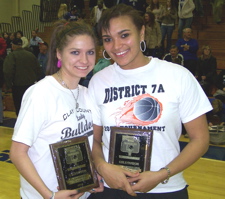 Clay County's Sarah Ogletree and Amelia Kirk (at right) were named to the team, along with five players from Clarkrange (including the MVP), three from Jackson County and one from Pickett County. 
All-district team members were:
Sarah Ogletree–Clay County,
Caroline Warden–Jackson County, 
Amelia Kirk–Clay County,
Tori Lowe–Clarkrange,
Kayla Gibson–Pickett County,
Hannah Green–Clarkrange,
Emily Bowman–Jackson County,
Kelli Reed–Clarkrange,
Laken Leonard–Jackson County,
Tasha Phillips–Clarkrange, and
Molly Heady–Clarkrange (MVP).