Featured
"The setting is spectacular, admission is free, and the talent line-up is top notch with a combination of great music artists, great marble making artists, and the world's greatest marble players, this really is a special one-of a kind event," said Standing Stone State Park Ranger Shawn Hughes.
Continued
Visitors to Clay spent close to $7 million here in the last year CLAY COUNTY-Tourists and other visitors spent a total of $6.94 million here during 2016, an increase of 2.9% compared to 2015, generating a total of $0.40 million in state and $0.62 million in local tax revenues, increases of 4.7% and 3.5%, respectively. […]
Continued
1st-year players help secure first win over JC in 9 yrs. By THOMAS P. WEAVERHORIZON Editor GAINESBORO-The drought is over and Bulldog football is back! Not only did Clay County beat arch-rival Jackson County for the first time in almost a decade, but they did it with a 32-7 domination of the Blue Devils for […]
Continued
With first-year head coach Matt Bates at the reins since spring, the Dawgs have shown some promise in the preseason and the former Stone Memorial High School offensive coordinator showed his excitement about his new team's debut this week.
See photo gallery….
Continued
CELINA-Overton County native Edwin Garrett recently presented a copy of his new book, "They Said It Their Way", to the Clay County Library. Just released by Fideli Publishing of Martinsville, IN the book is a collection of old sayings and by-words and has been proclaimed "The Official Tennessee Book of By-words and Old Sayings." Garrett […]
Continued
The 2017 Homecoming Days festival in Celina was a fun time for the many visitors and participants who enjoyed the opening ceremony, the many displays and the quilt and car shows and more. SHOWS GALORE-Tractor, quilt, and cars made up three of the many shows and events held during the community festival.
Continued
CELINA-With the launch of the Horizon Sports Network—a live-stream internet broadcasting affiliate of the Dale Hollow HORIZON newspaper based here, Clay County Bulldog fans will soon be able to listen to live play-by-play of every football game this season on the paper's website: www.dalehollowhorizon.com. "We are excited to announce the expansion of our media reach […]
Continued
Cumberland Run, Archery and Catfish tourneys highlight local slate of events for the first weekend in May 2017 CLAY COUNTY-If residents or visitors here are looking for something to do this weekend, they should have no problem finding it. Several events are planned beginning with the annual Cumberland Run classic car cruise-in on the courthouse square […]
Continued
Shows the world what Clay County fans already knew By THOMAS P. WEAVER Dale Hollow HORIZON Editor MURFREESBORO-Tennessean sportswriter Tom Kreager said it best in the Blue Cross Basketball Championship postgame news conference, after Clay County senior star Tyreke Key had what his colleague Michael Murphy described as "perhaps the best individual performance in state […]
Continued
By THOMAS P. WEAVER, HORIZON Editor CELINA-Like they have since the inception of the Clay County Sports Hall of Fame, this year's induction ceremony held over the weekend again served as the highlight of the sports year here locally. With a good crowd in attendance, seven new members were enshrined as the 2017 class was […]
Continued
County Mayor Dale Reagan recently announced Clay County has moved up a level in an economic designation established by the Appalachian Regional Commission (ARC), showing things are improving business-wise here locally.
Annually, the ARC conducts a statistical analysis of all the counties in the nation, with an emphasis on the counties in their multi-state area. For the first time in many years, the ARC study reported that Clay County is no longer designated as an "economically distressed" county.
Continued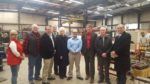 V & F Transformer to invest $1.4 million creating 50 new jobs here over the next five years.
Continued