Featured
The 2017 Homecoming Days festival in Celina was a fun time for the many visitors and participants who enjoyed the opening ceremony, the many displays and the quilt and car shows and more. SHOWS GALORE-Tractor, quilt, and cars made up three of the many shows and events held during the community festival.
Continued
CELINA-With the launch of the Horizon Sports Network—a live-stream internet broadcasting affiliate of the Dale Hollow HORIZON newspaper based here, Clay County Bulldog fans will soon be able to listen to live play-by-play of every football game this season on the paper's website: www.dalehollowhorizon.com. "We are excited to announce the expansion of our media reach […]
Continued
Cumberland Run, Archery and Catfish tourneys highlight local slate of events for the first weekend in May 2017 CLAY COUNTY-If residents or visitors here are looking for something to do this weekend, they should have no problem finding it. Several events are planned beginning with the annual Cumberland Run classic car cruise-in on the courthouse square […]
Continued
Shows the world what Clay County fans already knew By THOMAS P. WEAVER Dale Hollow HORIZON Editor MURFREESBORO-Tennessean sportswriter Tom Kreager said it best in the Blue Cross Basketball Championship postgame news conference, after Clay County senior star Tyreke Key had what his colleague Michael Murphy described as "perhaps the best individual performance in state […]
Continued
By THOMAS P. WEAVER, HORIZON Editor CELINA-Like they have since the inception of the Clay County Sports Hall of Fame, this year's induction ceremony held over the weekend again served as the highlight of the sports year here locally. With a good crowd in attendance, seven new members were enshrined as the 2017 class was […]
Continued
County Mayor Dale Reagan recently announced Clay County has moved up a level in an economic designation established by the Appalachian Regional Commission (ARC), showing things are improving business-wise here locally.
Annually, the ARC conducts a statistical analysis of all the counties in the nation, with an emphasis on the counties in their multi-state area. For the first time in many years, the ARC study reported that Clay County is no longer designated as an "economically distressed" county.
Continued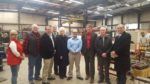 V & F Transformer to invest $1.4 million creating 50 new jobs here over the next five years.
Continued
The Honor Flight of Middle Tennessee is currently accepting signups for its spring 2016 flight and interested Clay County veterans are eligible for this trip and should apply as soon as possible. The trip is cost free to veterans and WW ll veterans get priority with veterans of the Korean War next in line and […]
Continued
A perfect season… that's the ultimate goal for any team, but for the Clay County Youth Football program one wasn't enough as all three squads completed the feat with a clean sweep of the Tri County Youth Football League championships held here Saturday.
Continued
Nominations are being sought for the 2015-16 class of the Clay County Sports Hall of Fame, group officials announced on Friday.
The deadline for accepting nominations will be Wednesday, November 25 at 3 p.m.
"We urge people to be a part of the process by nominating the athlete they feel is deserving of this honor,"
Continued
The following was read into the minutes of the Clay County School Board meeting for October, 2015 The Clay County Board of Education (CCBE) will fail to have an approved budget submitted to the Department of Education (DOE) by October 1, 2015. CCBE's initial request of a $315,000 budget increase was reduced to $200,000 following […]
Continued
Published in print October 14, 2015 Restraining order comes after board vote to close; hearing set next Monday CELINA-"Pursuant to an injunction order from chancellor Ronald Thurman, Clay County Schools will remain open until further notice," a statement from the Clay County Schools central office said late Friday afternoon. The news came just hours after […]
Continued
Published in print August 5, 2015 School learns it's ranked among state's top 5% the 2nd year in a row amid shut-down controversy By THOMAS P. WEAVER HORIZON Editor NASHVILLE-After enduring summer-long budget drama and preparing for a possible mid-session shut down, Clay County High School (CCHS) principal Melissa White finally got some good news […]
Continued