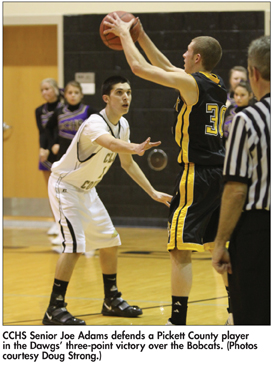 Statistics & Information By MICHAEL MILLER, HORIZON Correspondent
With wins over visiting Pickett County and Monterey last week the CCHS boys basketball team pushed their 2010 record to an unblemished 8-0.
Not only did they stay undefeated for the month of January, but they also kept their District 7A mark at a conference-leading 5-0.
After beating the Bobcats in a close one by three and blowing out the Wildcats in a nearly 30-point victory, the Dawgs hit the 15-win mark on the season.
Their game at Macon County last Friday night was postponed due to inclement weather.  They were scheduled to play Pickett County again Tuesday night, Trousdale County Thursday night, and Gordonsville on Friday night this week.
Dawgs…………………..43
Pickett County……….40
The CCHS Bulldogs pushed their District 7A record to 4-0 a week ago Monday night with a three-point win over visiting Pickett County.
Behind three double-digit scorers, the Dawgs battled to the important conference win.  Trent Boles lead the way with 16, Shawn Garrett added 13, and Caleb Lynn dropped in 11 of the Dawgs 43 points.
CCHS was down by four at the half, but regained the lead by the end of third quarter by a score of 28-26.  They notched the close victory as they matched Pickett County basket for basket and finished outscoring them by a free throw in the final period.
DAWGS (43)-T. Boles 16, S. Garrett 13, C. Lynn 11, A. Roach 2, B. Korth 1.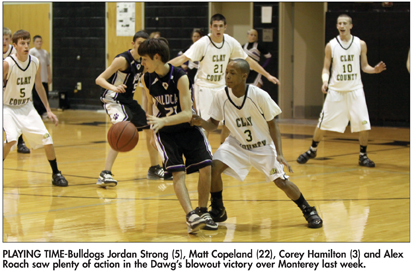 Dawgs………………….62
Monterey………………34
The Dawgs (5-0) increased their District 7A lead over Jackson County (4-2) with a blow-out victory over visiting Monterey last Tuesday night by a score of 62-34.
CCHS opened the game with 22 first-quarter points and poured it on the rest of the way to come away with the 28-point win and improve to 15-4 on the season.
A whopping 11 Bulldog players were listed in the scoring column after the game, with Shawn Garrett and Trent Boles leading the way with a dozen points each.
DAWGS (62)-T. Boles 12, S. Garrett 12, C. Lynn 10, A. Roach 9, J. Strong 4, S. Ballard 3, M. Copeland 3, C. Hamilton 3, D. Birdwell 2, J. Edwards 2, B. Korth 2.