Girls take 2nd;
boys finish 2-1
CELINA-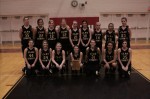 as the runner-up in the tournament with wins over Barbourville (KY), South Laurel (KY), and Australian International School.
They were defeated in the championship game by Notre Dame Academy of Park Hills, KY, but still took the second place trophy from a tough eight-team field.
"I thought we played pretty well in the tournament," head coach Joe Sims said.  "We beat three good teams without any practice in between.
"We just came up short against a really good team in the finals."
The Bulldogs lost their first-round game in the 12-team MBC (Monticello Banking Company) Holiday Classic in Monticello, KY to Satellite Academy of Bronx, NY, but rebounded with wins over Clinton, TN and York Institute to finish well in the loser's bracket with a tournament record of 2-1.
"We gave the New York team all they wanted and beat a couple of good teams," boys head coach Rob Edwards said.  "I think it was good for us to play that kind of competition and that kind of atmosphere will be similar to what we will see in the postseason.
"The play a little more physical up there and that's what we will see in the district and region tournaments."
Both Clay County teams saw a pair of stars shine in the events, including one that made the boy's all-tournament team.
Corey Hamilton lit up the scoreboard in the win over Clinton High scoring 32 points, an effort that garnered the junior guard the all-tournament honor.
Senior guard Jordan Strong also got on a hot shooting streak.  He scored 17 in the opening-round contest where he made five three-point baskets and he had a season-high 22, including a half-dozen makes from downtown, in the win over York.
The Lady Dawgs were led by senior standout Sydney Roach, who put up 22, 17, 25, and nine points respectively in four games.  Fellow senior Casey Cooper also played well scoring in double-digits in all of her tournament games, with her best effort coming in the form of a 23-point performance in the opening contest.
The good holiday outings improved the girls' record to 11-3 and the boys are now 10-3.  The teams were set to face Van Buren County, squads who they both convincingly beat earlier this year, here Tuesday night and they will then host Pickett County Friday night in an important District 7A rivalry game Friday night.
GIRLS
Lady Dawgs…………..84
Barbourville (KY)……60
LONDON (KY)-The Clay County Lady Bulldogs took care of business here in their opening-round game of the Candy Cane Classic holiday tournament here last week beating Barbourville, KY handily by a score of 84-60.
Casey Cooper scored 23 and Sydney Roach finished a point shy of her with 22 as CCHS routed their first-round opponent.
Cooper and Roach set the tone early as they combined for 25 points in the first quarter and continued their sharp-shooting to put up 34 of their team's first-half tally.
CCHS led by 28 at intermission and never looked back in the contest as they went on to win by 24.
LADY DAWGS (84)-Cooper 23, Roach 22, Mackenzie Hamilton 8, Allie Brown 5, Mattie Monroe 5, Tess Hatcher 4, Hannah Ogletree 4, Kennedy Smith 4, Alex Grace 3, Alesha Copas 2, Ashley Owens 2, Ruby Richards 2.
Lady Dawgs…………..49
South Laurel (KY)…..34
LONDON (KY)-Sydney Roach led her team with 17 points and Casey Cooper added 10 in the Lady Bulldogs' second win of their holiday tournament here last week where they took down the host school South Laurel High by a score of 49-34.
Stifling defense held South Laurel to only eight points in the first half and Clay County took an 18-point lead into the break.
Though struggling to score in the second half, CCHS was able to fend off a South Lauren run in the final period and go on to take the 15-point victory.
LADY DAWGS (49)-Roach 17, Cooper 10, Mackenzie Hamilton 9, Allie Brown 7, Hannah Ogletree 6.
Lady Dawgs…………..63
Australian Int…………53
LONDON (KY)-After easily knocking off their first two opponents here in the Candy Cane Classic, the Lady Bullodgs ran up against a tough Austrailian International squad in their third contest of their holiday tournament last week.
Though being down six with only three minutes to go in the contest, Clay County found their groove late in the fourth quarter to come away with a 10-point win over the talented international team.
Sydney Roach's 25 points led her team to the win, while senior point guard Mackenzie Hamilton (14) and senior post Casey Cooper (12) both scored in double figures to compliment their leader's effort.
An even first stanza left the Lady Dawgs up by one heading into the second quarter, but their opponent outscored them 18-13 there to lead by 4 at the half.
CCHS then went on a 15-5 run to close the third and take six-point advantage into the final period.
There the Lady Bulldogs saw Cooper pick up her fifth foul and leave the game while Austrailian International gained a six-point advantage with only three minutes remaining.
Down by a half-dozen, Clay County went on an unanswered 16-0 run to end the game and secure the 10-point win.
LADY DAWGS (63)-Roach 25, Hamilton 14, Cooper 12, Allie Brown 7, Hannah Ogletree 5.
Lady Dawgs…………..34
Notre Dame (KY)…….61
LONDON (KY)-After going 3-0 in the first rounds of their holiday tournament here, the Clay County Lady Bulldogs ran into a buzz saw in the form of Notre Dame Academy, an all girls school in Park Hills, KY, in the championship game where they lost 61-34.
"They pretty much manhandled us," Sims said, "but they were bigger and just as fast as us–we couldn't get shots and really had no luck stopping them either.
"I thought we could play them a little closer than we did, but they were a sound ball team and took care of us pretty good."
Notre Dame jumped out to a six-point lead after one and extended that margin to 13 at intermission.  The third quarter wasn't much better for the Lady Dawgs as their opponent outscored them 21-8 to open the second half and put the game away.
Casey Cooper did score a game-high 16 and Sydney Roach added nine in the defeat.  The loss dropped the Lady Bulldogs to 3-1 in the tournament and took their overall record to 11-3.
LADY DAWGS (34)-Cooper 16, Roach 9, Allie Brown 2, Alesha Copas 2, Mackenzie Hamilton 2, Hannah Ogletree 2, Ashley Owens 1.
BOYS
Dawgs………………….41
Satellite Ac.(NY)…….50
MONTICELLO (KY)-The Clay County Bulldogs suffered an opening-round defeat to Satellite Academy of Bronx, NY here in the MBC Holiday Classic last week by a score of 50-41.
The Dawgs had a goof first half and took a four-point lead into the locker room at the break behind some good shooting from senior guard Jordan Strong–who made five three-point shots in the game en route to scoring a game-high 17.
The New York team the went on a run in the third quarter to retake the lead. They outscored the Bulldogs 18-5 to take a nine-point margin into the final period, which ended up serving as the final winning margin after an even fourth quarter.
"I thought we played well against a good team," Edwards said.  "We right there until the third quarter push they made and we matched them in the fourth.
"It just wasn't enough to overcome the run they made in the second half."
The loss sent the Bulldogs to the tournament's loser's bracket, but there they found success taking back-to-back wins despite the opening round defeat.
DAWGS (41)-Strong 17, Dylan Carter 6, Corey Hamilton 5, Austin Cherry 5, Curt Cherry 4, Jake Edwards 2, Eddie Roach 2.
Dawgs………………….52
Satellite Ac.(NY)…….48
MONTICELLO (KY)-Junior guard Corey Hamilton lit up the scoreboard here last week in a holiday tournament game with Clinton High where his Bulldog team took an overtime victory by the score of 52-48.
Not only did he score 32 in the game, but he also hit a buzzer-beating basket from long range to send the game into overtime and scored all eight Bulldog points in the extra period to lead his team to victory.
"He had a great game," Edwards said.  "He was hitting his midrange jumpshots and he has the potential to put up 30 any night he's making those."
Ten of Hamilton's point total came in the even 13-13 first quarter and his shooting helped his team stay within one of the talented Clinton team by halftime.
Then he put up seven in the third to help the Dawgs reclaim the lead by a basket heading into the fourth quarter.
After a virtually even final stanza, Hamilton found his team down by three with only half of a second (.5) remaining.  The Bulldogs had the ball under their own basket and went to the bench where Edwards drew up a play.
"We drew it up to get it to Jordan (Strong) or Austin (Cherry) because they are our best three-point shooters, but it didn't work out that way," Edwards said.  "They were both covered and Corey got it, put it up, and hit nothing but net.
"Then he went on to score all of our points in overtime to lead us to the win."
Point guard Jake Edwards also scored 10 in the four-point victory.
DAWGS (52)-Hamilton 32, Edwards 10, Strong 4, Cherry 3, Eddie Roach 3.
Dawgs………………….66
York Institute………..53
MONTICELLO (KY)-The Clay County Bulldogs finished their holiday tournament campaign here with a win over York Institute by a score of 66-53.
Senior guard Jordan Strong showed his three-point shooting prowess by scoring a season-high 22 points, including six buckets from long range, and four other players combined for 40 more in the win.
Both Jake Edwards and Corey Hamilton scored 11, and Dylan Carter and Austin Cherry put up nine each.
Clay County took a 10-point lead into halftime and extended their margin to 20 heading into the final period.
There York woke up and made a run, but the Bulldogs held on to take the 13-point win.
"They made a run when we got up big," Edwards said, "but we put the game away in the last two minutes."
The win improved their holiday tournament record to 2-1 and pushed their season mark to 10-3.
DAWGS (66)-Strong 22, Edwards 11, Hamilton 11, Carter 9, Austin Cherry 9, Curt Cherry 2, Eddie Roach 2.