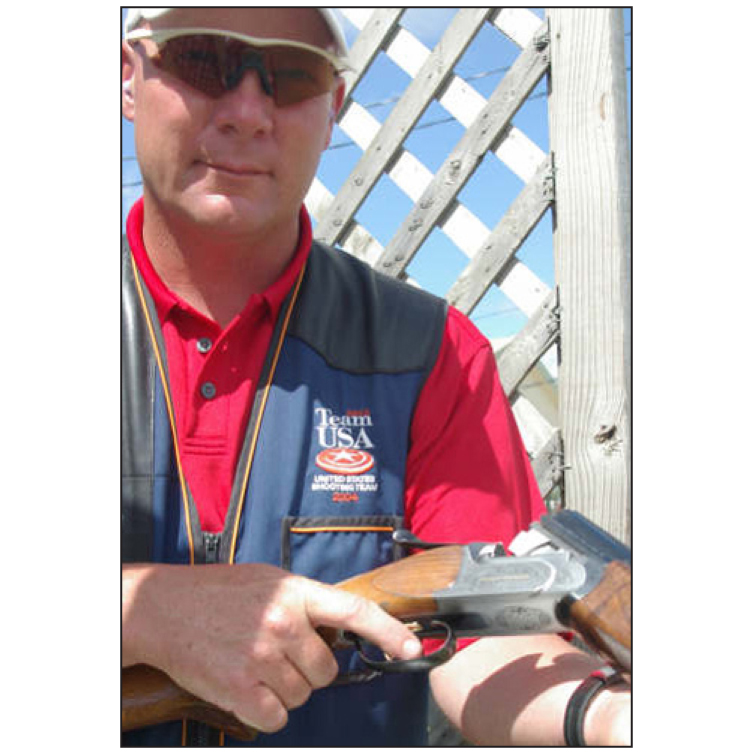 By TOMMY DENTON, Special to HORIZON
SAN ANTONIO, TX-Clay County's Wendell Cherry was inducted into the National Sporting Clays Association Hall of Fame here receiving the Gold Medallion, sporting clays highest honor on October 25, 2012.
Cherry, a 1982 graduate of Celina High School, the son of Don and Anita Cherry of Moss, still resides in Clay County and is probably better known locally for his musical, especially guitar playing, abilities than for his skills as a shooter. He played school musicals at Celina High School and Hermitage Springs High School, with bands at local events and after high school went to Nashville with the ambition of becoming a professional musician. Practice, dedication, and hard work lead to his role as lead guitarist and band leader for Eddy Raven and several engagements to play on the Grand Ole Opry stage.
Cherry's interest in shooting sporting clays began in 1994 at a shooting club near Nashville. When not on the road with his music career he applied the same dedication that had paid off in music to his shooting, using most of his spare time practicing, reloading shells, and studying the sport.
In the spring of 2002 Cherry gave up his music career to devote full time to shooting competitions and has since finished as champion or runner-up in over 265 events and has won the  U.S. Open twice (2003 and 2006). Other competitions won include the U.S. Grand Prix, SCA National Champion, Pan-American FITASC, World Sporting FITASC Champion, All American Champion, World American Grand Prix Champion, National FITASC Champion three times, Tennessee State Champion six times, Kansas State Champion, Wisconsin State Champion, Indiana State Champion, two times each for the following Browning Briley Champion, Master Cup Champion, HiDef Spex/Lobster Classic Champion, Texas FITASC Champion, Nemacolin Hardy Pro Invitational Champion, three times each for the Seminole Cup Champion and the Gamaliel Cup Champion. In 2012 he won the Seminole Cup main event topping 456 other entrants and bested 365 shooters to win the Gamaliel Cup main event. He has competed internationally and won in Canada, England, France, Italy and Prague.
Cherry has hit a hundred clay pigeons in succession five times in competition and set the record for the U.S. Open in 2003 and again in 2006. He was elected lst Team All American eleven times, Team USA Sporting eight times and Team USA FITASC nine times. He was Captain of all three teams in 2006, 2007 and 2008, and lst Team All American in 2009 and is the 2013 captain of Team USA FITASC whose membership is determined by points earned in a series of select shoots in the United States with the captain being the points leader.
Cherry uses two different guns in competition, an over and under 12 gauge with 34 inch barrels and another with drop in tubes making it changeable to 20, 28, or 410 gauges. Staying on top of his game requires about 30,000 practice shots per year.
He has coached and taught students who have become world champions, national champions, U S Open champions, zone, and state champions.
Featured on many sports programs such as ESPN2, TN Outdoorsman, Woods and Water, and Clay Nation's Outdoor Channel "Pull,"Cherry has also appeared on the cover of Sporting Clay magazine and Clay Shooting USA magazine and has been the subject of feature articles in Clay Shooting magazine, Sporting Clay Magazine, Clay Pigeons, Shotgun magazine and others. Cherry currently appears in the 2013 Remington Arms Company catalog.