By BUTCH BURNETTE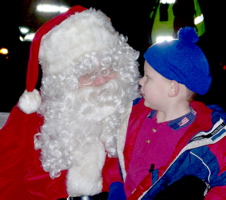 According to mayor Willie Kerr, the city of Celina has begun preparations for the annual Clay County Christmas Parade. As always, the assistance of the Clay County Rescue Squad will help make this another successful and enjoyable Christmas Parade.
Mayor Kerr hopes that this year's parade will be bigger than ever as we celebrate and recognize four events. First off, the city is celebrating and closing off its 100th Anniversary, then Veteran's Day is November 11, and Thanksgiving is November 26, as we all prepare for Christmas.
To not conflict with other counties, the city of Celina and Clay County Rescue Squad have decided to celebrate early by holding the multi-event Clay County Christmas Parade on Saturday, November 14, starting again at 5 p.m. under the lights.
Mayor Kerr said by keeping with the Christmas theme, everyone has a choice of making their float or display with a choice of themes: patriotic (veterans), Thanksgiving, Christmas, or an old-fashioned Christmas 100 years ago.
Kerr asks that all factories, businesses, civic groups, churches, clubs, schools, and private citizens plan now to participate in the 2009 Clay County Christmas Parade.