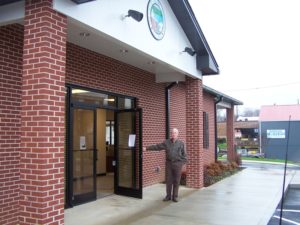 CELINA-An open house will be held at the new Celina City Hall here on Wednesday, November 30, and everyone is invited.
The open house will be held from 1-4 p.m. that day, and Celina Mayor Willie Kerr said he is expecting a big turnout at the event.
"I think we will have a big crowd that day, and that's exactly what we want," Kerr said. "We extend a warm invitation for everyone to come out and see our great new facility."
The new building features a meeting/conference room, individual offices for city clerks and office workers, a drive-thru window for paying water bills, and will also soon house the City of Celina Police Department.
"This is a building our residents and taxpayers can be proud of," Kerr said. "We are grateful to be serving the public from it."
City water users visiting city hall can pay their bills at the new drive-thru window. Those using the drive-thru must bring their water bill with them. If you don't have your bill, you will need to come inside to pay.
"The drive-thru window has been a big hit with our water customers," Kerr said. "We've had a lot of positive comments on it and on the building as a whole."