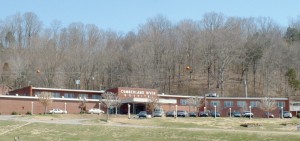 CELINA-Cookeville Regional Medical Center (CRMC) announced last week their intentions to buy Cumberland River Hospital (CRH), a healthcare facility serving the community here for nearly 50 years.
A CRMC news release dated February 8 said the two had "signed a letter of intent for Cookeville Regional to acquire" the local hospital.
"Because of uncertainties in today's health care environment, more and more independent hospitals are beginning to explore the possibility of joining with others," CRMC CEO Dr. Menachem Langer said in the release.  "With healthcare reform looming in our future, it makes sense to explore options so that we are better able to secure our mission to provide high quality health care into the future."
The release said CRMC's acquisition of CRH would strengthen both facilities' positions in the region and develop a stronger base of support for both facilities.
It also explained CRH would continue providing services and access to care in the Celina area in addition to having more access to specialists and specialty care at CRMC.
"The board felt that aligning with Cookeville Regional Medical Center was best for the patients, employees, and medical staff," CRH board member Steve Clapp said in the news release. "Cookeville is a strong healthcare partner with a track record of delivering high quality service.
"We look forward to becoming part of the Cookeville system."  
The acquisition is expected to be completed by May 1.
 
About CRMC
Cookeville Regional Medical Center is a 247-bed regional referral center for the Upper Cumberland area and is a city-owned hospital.  With over 150 physicians in 40 different medical and surgical specialties, Cookeville Regional offers patients here the same kind of care that they could expect in a larger metropolitan area including specialty care such as cardiology, cardiac surgery, vascular surgery, cancer treatment, physical rehabilitation and neurosurgery. Opening this summer will be a 32-bed inpatient psychiatric and behavioral health hospital within Cookeville Regional operated by Ten Broeck Tennessee.  Serving the Upper Cumberland since 1950, Cookeville Regional has grown to become the premier health care provider for many residents in the region.
 
About CRH
Cumberland River Hospital has been serving its community since 1965 and provides emergency and acute care services along with home healthcare in ten counties.  In addition Cumberland River provides geriatric psychiatric care that includes an 8-bed inpatient unit offering emotional and behavioral health services for older adults.  The hospital also houses a skilled nursing program to facilitate skilled rehabilitation care following illness or injury.  Outpatient services include diagnostic medical imaging (x-ray, computerized tomography, ultrasound), diagnostic laboratory services, respiratory care, physical therapy, occupational therapy, and speech therapy.