By Tim Tipton
for Dale Hollow outdoors
In January 2007, the U.S. Army Corps of Engineers lowered Lake Cumberland to 680 feet above sea level in order to make repairs on the dam. These repairs are expected to be completed by December of 2012.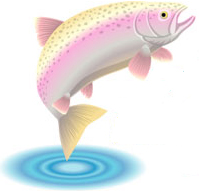 In the first two years of the lowered water levels, the tailwater trout thrived. Drought in 2007 and '08 kept water levels stable on the river, while still providing enough cold water release to keep the fish in their comfort zone. That has been changing through the spring and summer of 2009 due to the increasing amount of rain. This has forced the Corps to pump out massive amounts of water to keep lake levels in check and is depleting the cold water drawn through the dam.
"That winter water stored in the lake is the habitat for the trout in Cumberland tailwater and for the striped bass and walleye in the lake," said Dave Dreves, fisheries research biologist for the Kentucky Department of Fish and Wildlife Resources. "There is a finite amount of this winter-stored cold water after April."
Water temperatures are vital to not only trout survival, but growth rates as well.  Trout thrive in water temperatures around 55 degrees, but once these temperatures rise to 65 or above, feeding slows down and the fish can become stressed. If temperatures reach 72 or above, KDFWR will not stock trout.
"It is hard to pinpoint the exact temperature where trout become stressed to a point of moving or dying," said Dreves. "They could probably survive for a couple of weeks to a month in 72 degrees, but maybe only a day or two in 78 degrees."
Another person who keeps a close eye on the Cumberland and its fishery is fly fishing guide Brandon Wade. 
Wade, who runs Cumberland Drifters Guide Service ( HYPERLINK "http://www.cumberlanddrifters.com" www.cumberlanddrifters.com, 859-272-9231) has been guiding on the tailwater for over a decade and has seen the river in nearly every condition. He also expressed concerns over the potential warm water.
"Basically, we are praying for a drought for the rest of the summer, to help the fishery," said Wade. "They have pumped out more water this year than they did in 2007 and 2008 combined and water coming out of the dam in May and June was reaching 60 degrees, compared to 48 or 50 degrees normally."
According to Wade, if things get back to normal, like they seem to be doing as of this writing, the fishing should turn on. Midges will be hatching pretty much around the clock in the fall and there are normally some Blue Winged Olives. The olives will normally taper off as the leaves change.  Anglers should keep an eye out for Stoneflies as it gets colder.  
"As far as imitations go you can't go wrong with copper johns to imitate just about anything in the river," Wade said. "In the fall I use larger patterns for my top fly on a tandem rig simply because the fish are seeing larger nymphs and hey…your chances are always better with a larger hook.  Zebra midges and WD40's are always a must have for a dropper from the big nymph on top." 
Wade says that egg imitations and egg sucking leeches are trout magnets in the fall, but are ignored by many fly fishing purist.
"Some die hard fly fishers won't do it, but it's a fact of nature that these fish spawn in the fall and that means eggs are in the river," the guide says. "Egg patterns always produce if you're willing to fish them.  Some of my client's largest trout have come from flies from my steelhead box."