CELINA-Seepage problems at Wolf Creek Dam have garnered the headlines over the last few years, but news that the dam here impounding Dale Hollow Lake has some of the same problems has never really been in the limelight, and for good reason according to Mike Zoccola, the Chief Engineer for the repair project at Wolf Creek.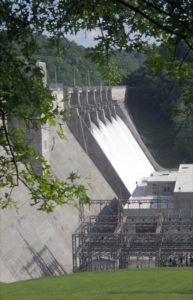 During discussions with Clinton County News Editor Alan B. Gibson at the recent Wolf Creek Dam media day, Zoccola explained why seepage problems here at Dale Hollow were not as serious as the ones upstream at Lake Cumberland.
Gibson's story, which can be found online at clintonnews.net/pages/?p=3514, said Zoccola told the Clinton County News that while no man-made dam can ever be considered as problem free, the dam located in Celina has problems, but nothing as serious as the problems being corrected now at Wolf Creek Dam.
"Dale Hollow has similar problems (to the seepage problems at Wolf Creek Dam), but they aren't dam safety problems because Dale Hollow is an all concrete dam, so you don't have the concerns like you have here with the earthen embankment," Zoccola told Gibson.
He then further explained to Gibson that the seepage problems at Dale Hollow meant that water would flow under the dam structure and end up under the electrical switch yard below the structure.
"That could cause sinkholes underneath the switch yard that equipment could fall into and we could lose our power capability, but as far as the loss of the project, there is no concern there," Gibson quoted Zoccola saying.
For more information about Dale Hollow Dam, visit the lake's Corps website at www.lrn.usace.army.mil/op/dal/rec/.