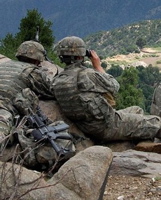 CELINA-Dale Hollow Outdoors is asking the community's help in its sponsorship of the soldiers of Firebase Restrepo in the Korengal Valley, Kunar Province of Afghanistan, a company news release said. 
This fire base is one of the most remote and at the highest elevation in the country. This base supports about 20-25 soldiers and has no running water, no electricity and has a bad flea problem. Their only food for months is MREs so spices and any way to change up the food is important, the news release said.
Items needed are cough drops, Chapstick, boxer shorts (all sizes) , foot powder, deodorant, waterless toothpaste, waterless shampoo, flip-flops, eye drops, baby wipes (when they don't have any water) , lotion, cortisone cream, Febreeze, flea collars, warm socks, tan T-Shirts, strings of Christmas lights (they use these to light their quarters when they have power), DVDs, phone cards, magazines, travel games, book games, Pringles, Fritos, snack mix, cookies, Rice Krispy treats, nuts (zip lock bags), canned bean dip , soup (dried mixes), beef jerky, protein bars, Fruit Roll ups, instant oatmeal packets, On the Go drink mixes, sunflower seeds, popcorn, Snickers,  Skittles, Tootsie Rolls, Fish crackers, Poptarts, cheese and cracker packets, dried fruit, mints, gum, and Jolly Ranchers.
Donations can be dropped off at the retail store. Dale Hollow Outdoors will continually send packages via USPS to the soldiers until the war is over.
To see a photo associated with this effort, go to: http://en.wikipedia.org/wiki/File:US_Army_Afghanistan_2006.jpg