By THOMAS P. WEAVER
HORIZON Editor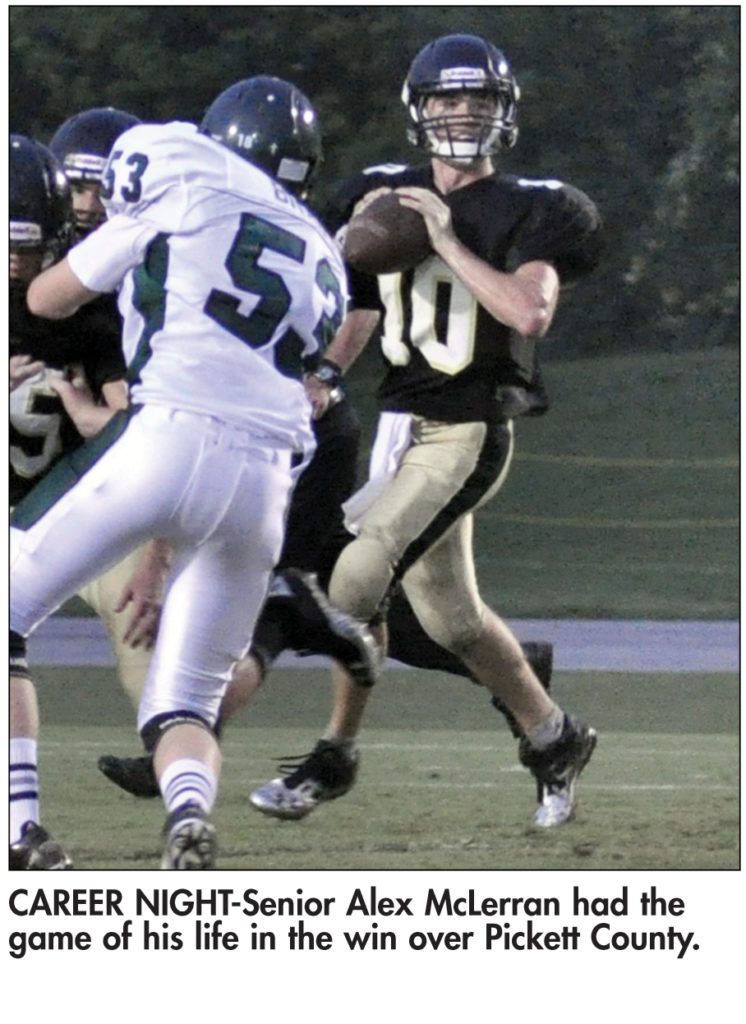 BYRDSTOWN-After suffering through a tough season, senior quarterback Alex McLerran made sure his Bulldog team had something to smile about here last Friday night.
Mclerran crossed the goalline four times to lead Clay County to their second win of the season in convincing fashion as the Dawgs blew out Pickett County (0-8) by a score of 46-12.
His career night spanned all phases of the game–offense, defense, and special teams.
As a signal-caller, he rushed for 100 yards, scored a pair of touchdowns on the ground, and passed for 121 yards.  From his outside linebacker position, Mclerran picked off two Pickett County passes, recorded a pair of sacks, and took a fumble recovery back 35 yards to paydirt.  To top it all off, he exploded for an 82-yard kick-off return for a touchdown.
The fumble return and a Ted Turner kick made it 7-0 CCHS early in the first quarter, but Pickett County answered before time expired in the period.  Their PAT failed leaving the score 7-6.
McLerran then broke the game open with his kick-off return, but Turner missed the mark and the scoreboard read 13-6.
The Bobcats were turned away on their ensuing drive by an interception by Sloane Tiernan.  The junior defensive lineman rumbled 25 yards setting his team up in scoring position.
From there, senior wing Corey Hamilton–returning after missing time for injury, broke loose for a 25-yard touchdown and Turner split the uprights making it 20-6.
McLerran then helped put the game out of reach as he picked off a Bobcat pass to give his team the ball back and orchestrated a drive ending with Hamilton's second touchdown of the night.
The quarterback scrambled for 22 yards, hookups through the air with freshman Wyatt Mabry and senior fullback William Meadows accounted for 60 yards, junior tailback Jayar Fraga (4 carries, 91 yards, TD) had a good 10-yard run, and the shifty Hamilton scored from five yards out to make it 26-6 after a failed extra point attempt.
Clay County had a 20-point lead with just over a minute remaining in the half, but McLerran wasn't done.  He intercepted the Bobcats for the second-consecutive time to be sure the score would remain the same heading into intermission.
Pickett showed some signs of life to open the third quarter as they scored to make it 26-12, but McLerran would again have nothing of it leading his team to another score.
Fraga got them started on the ground with 17 more yards, McLerran found Meadows for a big 40-yard pitch-and-catch, the big fullback pounded ahead for 16 more the hard way, but it was the star of the night that found the endzone from 18 yards out putting his team up 32-12.
Just to be sure, McLerran tacked on his final touchdown on the next Clay County possession as he jaunted 53 yards en route to the endzone for the fourth time on the first play of the drive.  Another Turner kick took the tally to 39-12 with just over a quarter to play.
The Bulldog defense held the remainder of the game behind a big effort from Meadows (10 tackles, 3 for loss, forced fumble), Turner (7 tackles, INT), and senior Jessie Carter (7 tackles).  Fraga added a dagger with a 75-yard scoring run.  The touchdown and a Turner kick accounted for the final score.
The Dawgs return home to Coach John Teeples Field Friday for the last time this year for senior night and their season finale.  There they will face what many are describing as the best team in Class 1A–the Associated Press #1-ranked Gordonsville Tigers, who dominated a talented Watertown (6-2) team last week 48-0 to improve to 7-1.