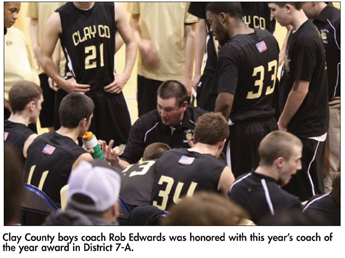 Four Lady Bulldogs make all-conference team roster
By THOMAS P. WEAVER, HORIZON Editor
COOKEVILLE-When the District 7-A awards were announced here last Friday night at the coaches meeting, there was no doubt which conference team had dominated this year's boys action.
The Clay County High School Bulldog basketball team had a half-dozen players named to the all-district team, a pair to the all-freshman team, and they also took home the conference's top two annual awards.
Junior guard Trent Boles was named the district's player of the year, and his coach, Rob Edwards, was recognized as the conference's coach of the year.
The duo, along with District 7-A first-teamer Shawn Garrett, led the Bulldogs to an unblemished 8-0 conference record and an impressive 20-4 season mark, despite the fact they lost five seniors from last year's region-winning and sub-state team.
CCHS wrapped up their regular-season conference title last week with victories on the road over Jackson County and at home versus Clarkrange.  The Dawgs await their first district-tournament opponent from the winner of the play-in game Thursday night between Clarkrange and Monterey.
They will begin their tournament action Saturday night knowing they have already notched a region berth with their first-seeded position in the District 7-A tournament.
Boles–who had some big games down the stretch and averaged nearly 12 points per game on the year, and senior forward Garrett were joined on the all-district team by fellow seniors Caleb Lynn (2nd team), Brian Korth, and Joe Adams (both 3rd team), with Dusty Birdwell making honorable mention.
Corey Hamilton and Jake Edwards rounded out the awards won by the Bulldog team when they were named to the conference's all-freshman team.
Girls
Seven players from this season's District 7-A third-place finishing Lady Dawg basketball team were named to the 2009-2010 all-conference squad.
Led by all-district first-teamer Sydney Roach, the team finished with a more-than respective 19-5 overall record.
Unfortunately, CCHS could only muster wins in half of their district games leaving them sitting behind both teams who swept them in conference play–Jackson County and Monterey, heading into the district tournament this weekend.
Sophomore guard Roach was joined on the all-conference team by seniors Sarah Ogltree and Kayla Kimes, who both made the second team, and third-teamer Rachel Burnette, a junior.
Emma Ogletree, Allie Brown, and Mackenzie Hamilton rounded out the award winners with their honorable mentions.
The third-seeded Lady Dawgs will play in their first district tournament game Friday night where they will face the number two seed, Clarkrange.
By finishing conference play in the top three, CCHS gained an automatic region berth where they are guaranteed a ticket to next week's Region 4-A event.