Statistics & Information By DARRELL COLLINS, HORIZON Correspondent
Clay County High School basketball teams both notched victories over Red Boiling Springs and Trousdale County last week keeping their new year undefeated streaks alive.
Neither the boys or girls have suffered a single loss in 2010 on their way to an unblemished 4-0 record in the month of January.
With the victories, the Lady Dawgs improved to 13-2, while the Dawgs are a couple wins shy of the girls' mark sitting at 11-4.
CCHS was set to host district rival Jackson County Tuesday night and will travel to Friendship Christian Friday night.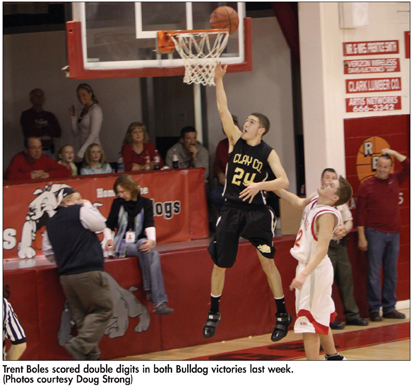 BOYS
Dawgs………………….60
Trousdale County…..56
Shawn Garrett's game-high 23 points carried the CCHS Bulldogs to victory over Trousdale County in their Monday, January 11 match-up.
Garrett kept the Dawgs ahead early with all but one of those points coming in the first three quarters of the game, but Trent Boles finished off the Yellow Jackets by scoring 10 of his 13 points in the final period.  Caleb Lynn also added an even dozen.
CCHS trailed at the half by a bucket, but they outscored their opponent 17-12 in the final period to come away with the four-point victory.
DAWGS (60)-S. Garrett 23, T. Boles 13, C. Lynn 12, J. Adams 3, B. Korth 5, A. Roach 4.
Dawgs………………….48
Red Boiling…………..27
Trent Boles and Shawn Garrett both had 16 points as the dawgs ran away with with a victory over host Red Boiling Springs last Friday night.
After jumping out to a two-point lead at the end of the first quarter, CCHS poured it on scoring double digits in the final three to take the lop-sided 48-27 win.
DAWGS (48)-T. Boles 16, S. Garrett 16, B. Korth 6, C. Lynn 8, A. Roach 2.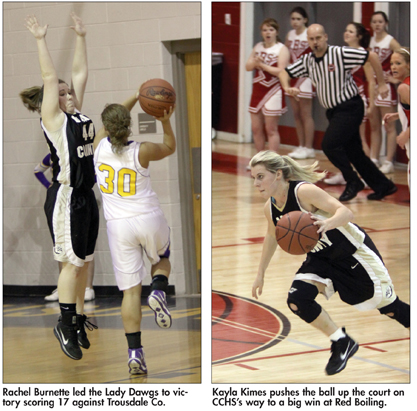 GIRLS
Lady Dawgs…………..54
Trousdale County…..28
Rachel Burnette lead the Lady Dawgs to a 26-point victory over the host Lady Yellow Jackets here at Trousdale County on Monday, January 11.
Burnette scored a game-high 17, Sydney Roach had 14, and Kayla Kimes finished in double-digits with 10 points.
CCHS had their opponent doubled up at the half by a score of 22-10 and kept the same lead through the end of the third period.  Lighting up the scoreboard, the Lady Dawgs scored 18 in the final period to win going away by a score of 54-28.
LADY DAWGS (54)-R. Burnette 17, S. Roach 14, K. Kimes 10, E. Ogletree 6, S. Ogletree 4, C. Cooper 2, A. Brown 1.
Lady Dawgs…………..51
Red Boiling…………..48
Sarah Ogletree put CCHS over the top for a big win at Red Boiling Springs Friday night scoring 18 points, including three 3-point baskets.
After jumping out to a 17-10 lead after one, the home team knotted the score at 25 heading into halftime.  At the end of the third, CCHS trailed by a point, but they were able to outscore RBS 10 to six in the final stanza to take the three-point victory.
The team's leading scorer Rachel Burnette was unable to play due to illness.
LADY DAWGS (51)-S. Ogletree 18, S. Roach 10, K. Kimes 8, E. Ogletree 7, K. Watson 6, A. Brown 2.