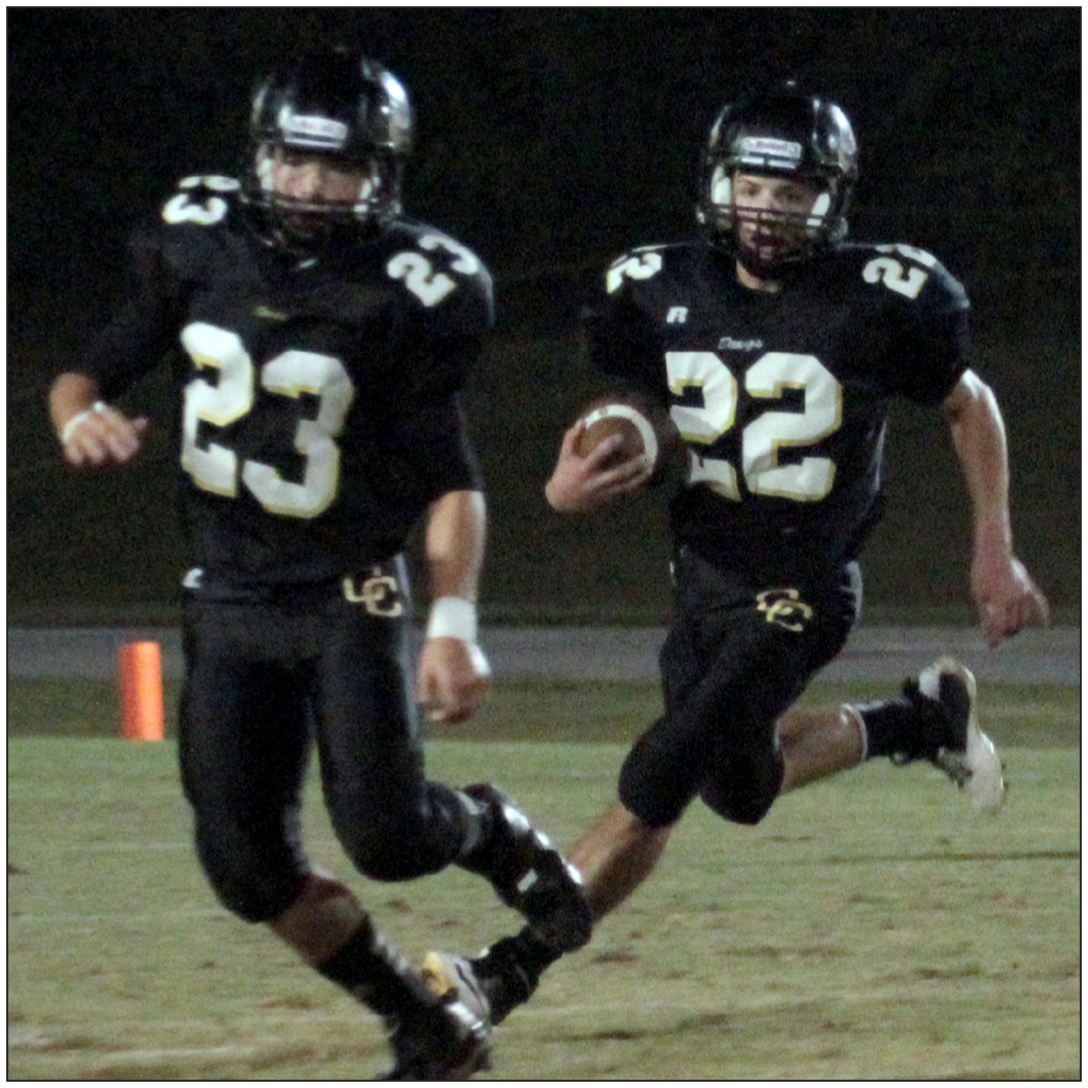 Published October 9, 2013
By THOMAS P. WEAVER, HORIZON Editor
CELINA-Clay County head coach Chad Barger said his Bulldog team "took care of business" against Pickett County last Friday night and attributed the 41-0 shutout of the Bobcats to his squad's defensive effort led by junior Matt Fraga.
"He was a beast last Friday night," Barger said describing the hard-nosed linebacker.  "With injuries depleting us up front, Matt has stepped up."
Fraga tallied a dozen tackles on the night and five of them came from behind the line of scrimmage where he threw ball-carriers for a loss.
"We had to get creative to get some penetration, so we blitzed him quite a bit and it paid off," Barger explained.  "We put up a pretty good effort on that side of the ball."
The Bulldogs improved their record to 2-4 with their second win in a row here at Coach John Teeples Field by holding Pickett County under 100 yards in the contest and scoring almost every way possible.
Senior feature back Jayar Fraga ran for well over 100 yards on the night and was directly responsible for four of Clay County's half-dozen touchdowns, but none of his came via the rush.
Fraga showed he was not only a big-play running back, but also the team's best all-around player as he found the endzone four different ways.
He got his team on the board first by catching a 49-yard touchdown pass from junior quarterback Brandon Stewart, then accounted for three straight scores late to put the game away.
Fraga hit sophomore tight end Wyatt Mabry from 25 yards out first, then completed a "pick-six" after returning an interception 36 yards to paydirt, and finally returned the ensuing Bobcat punt 62 yards to cap off his unique scoring barrage.
After Fraga's initial touchdown to open the game (kick failed), Pickett County responded with a 12-play drive, but it ended with a fourth-down stop on the Clay County 33-yard-line.
From there, the Fragas–Jayar for 19 and Matt for 30–combined to move the ball into Bobcat territory on the ground.  Then Stewart found Mabry for 14 more yards before crossing the goal line himself from seven yards out to take the score to 12-0.
Stewart then hooked up with senior Harley Smith for the two-point conversion changing the scoreboard to 14-0 late in the first quarter, but things quickly came to a screeching halt for the Bulldog attack the remainder of the first half.
"We were lucky to jump out on them early, because we didn't do anything after that," Barger said of his team's second-quarter performance.  "I guess it's weird to gripe about a win, but the guys didn't have the same intensity as they had in the last few games and it showed before the half."
Back-to-back fumbles killed Clay County's first two second-quarter drives and time ran out before they could capitalize on the first of two interceptions Smith had in the game leaving the Dawgs with the same two-score margin they had in the first quarter at halftime.
"I was afraid our guys were overlooking them a bit so we had a little heart-to-heart at the half," Barger said.  "We were playing flat, but the effort came in the second half."
The Bulldogs put together a scoring drive sparked by a Jayar Fraga 49-yard run on their first offensive play of the third quarter.  After the star's break-away, Stewart again found Mabry and then handed it to Smith–who crossed the stripe on a 10-yard touchdown run.
"Harley's as fast as anybody we've got," Barger said. "It was good we finally got him loose inside the redzone and got him a score… he was pretty fired up about it."
Freshman kicker Baltazar Sebastian split the uprights and Clay County got the boost they needed going up 21-0.
After another defensive stop, the Bulldogs retained possession deep inside Pickett County territory and that's when Fraga's trifecta came to pass.
Twenty points later the game ended with the Clay County defense pitching their first shutout of the year.
"That was big for these guys," Barger said.  "The Fraga boys inside, Harley with his coverage down the field, having Mitchell (Short) back, and the other guys up front.
"It was a team effort on defense and to hold a team scoreless, no matter who it is, is a big step for this program."
Stats
Clay County racked up 302 total yards on 29 plays in the game.  Eight completions accounted for 130 yards through the air and 19 rushes for 172 yards made up the total.  CCHS also picked up seven first downs in the contest.
The Dawg defense held Pickett County to 92 yards of total offense and nine first downs.  Five penalties cost the Bulldogs 35 yards on the night and they turned the ball over twice (2 fumbles) in the game, while the Bobcats had six for 40 yards and a pair of turnovers.
Jayar Fraga was again Clay County's leading rusher with 126 yards on six carries, his brother Matt rushed six times for 40 yards, Smith had two carries for 12 yards, Stewart ran four times for no gain, and junior Latrone Bowman lost six yards on his lone carry.
Stewart had another good night passing as he went seven for nine for 105 yards and a touchdown, while Jayar Fraga was a perfect one for one with a 25-yard TD-toss.
Mabry was on the receiving end of Fraga's touchdown and he caught three other balls to total 69 yards, while Jayar Fraga caught Stewart's scoring pass for 49 yards, Matt Fraga hauled in two for nine yards, and Smith caught one for three yards.
On the defensive side of the ball, Matt Fraga finished as the team's leading tackler with 12 from his linebacker position, sophomore Dalton Smith had seven stops, and both Stewart (sack) and senior Carl Ledbetter had 6.5 tackles each.
Short and Jayar Fraga both made five tackles.  Short also combined with senior D.J. Laureigh for a sack and Fraga picked off a Bobcat pass returning it for a touchdown.  Bowman made 2.5 stops, junior Tony Spivey had 2, and Sebastian, Mabry, sophomore Clay Copass, freshman Dakota Scott (sack), and sophomore Matt Maxfield had one each.  Harley Smith also had a pair of interceptions in the game.
On special teams, Sebastian made three of five PATs, while Jayar Fraga returned a punt for a touchdown from 62 yards out.
Road trip this week
Clay County travels to Whitwell this Friday night to face a team coach Barger says is better than their 2-5 record.
"They have played some good teams," the coach explained.  "It's a long road trip for us and they're a good team.  We'll have to play well down there to come away with a win."
Whitwell has lost to the likes of perennial powerhouses Marion County (6-1), South Pittsburgh (5-1), and others.  Their only two wins have come over Mt. Juliet Christian (1-5) and Lookout Valley (0-6).
Barger said a win over the Tigers on their home field would be "huge" for his team.
"If we are gonna have any shot at all to make the playoffs as a wildcard, we've got to win three of our next four," he said.  "This road trip is going to be a crucial part of accomplishing that goal."
Game time in Whitwell is 7 p.m.
Looking back
Historical numbers compiled by coach Daniel Strong from newspaper archives* show the Bulldogs have only played Whitwell twice in history.  Clay County dropped both of their games to the Tigers with losses coming consecutively in 2001 and 2002.
Due to that fact and the limitations of Strong's available statistics, no single-game individual leaders versus the Whitwell made the required list limitations (i.e. 150-yard rushing minimum, 150-yard passing minimum, etc.).
Therefore the HORIZON will take a look back at the 43-game series between the former Celina High School or Clay County High School and Watertown.
Clay County has an overall series mark of 19-24 versus Watertown and history shows there has been some back-and-forth between the two teams.
The Bulldogs had a good win-margin over their former conference opponent (18-11) as of the late 1990s after beating them six straight times (1993-1998), but a stretch from 1999 to the present where the Purple Tigers won 13 of 14 match-ups tipped the series tally in Watertown's favor.
The two teams met for the first time in 1971 and have battled every year since then, but the run will come to an end this season as the Purple Tigers are not on the 2013 Clay County schedule.
Single-game statistical leaders against Watertown over the years include current Clay County running back Jayar Fraga who set the rushing mark last year with 236 yards, but Gary Davis also put up big numbers against the team.
Davis ran for 206 yards against the Purple Tigers in 1994 and had 153 yards on the ground in the 1993 contest.  Benji Bailey holds the rushing touchdown record with three in 1998, but he didn't have the longest.  Jimmy "Crank" Hull broke free for a 70-yarder in 1983 to claim that record.
Bulldog quarterbacks also played well against Watertown.  Daniel Strong leads the list with 231 passing yards in 1999, Jon Weaver wasn't far behind in 1996 with an even 200, and Steven Arms threw for 158 yards in 1988.
Weaver also tied Kevin Watson (1986) for the most passing touchdowns in 1997 with three, and helped Josh Cloutier become the leading receiver against the Purple Tigers (161 yards) in his big game the year prior.  Chris Bartlett's 150 receiving yards came off Strong's arm in 1999 and Scott Barlow rounds out the top-performing-wideout list with 124 yards receiving thanks to Arms' effort in 1988.
Matt Adams also benefited from Weaver's work when he broke the receiving-touchdown mark hauling in the quarterback's trio of scores through the air in 1997.  Both Bartlett and Cloutier also made that list with a pair each on their big-yardage nights.
Though known for running the ball, Hull is responsible for the longest pass-play for a touchdown against Watertown as he hooked up with Rob Weir for an 80-yard bomb in 1984.  Strong and Bartlett are tied for the second spot with a 79-yarder in 1999, because Weaver and Cloutier did the same in 1994, and Watson found Jerry Arms from 75-yards out in 1986 to round out that list.
Jeff "Wildman" Watson was the biggest defensive force ever against Watertown as he made a whopping 18 tackles in the 1983 match-up, while Stevie Key (16) and Kenny Garrett (14) combined for 30 stops in 1987.
Bailey (1997-1998) and Al McLerran (1980-1981) both picked off a pair of Purple Tiger passes two years in a row and Hull intercepted two himself in 1983 to close out the the defensive lists.
Dewayne Reecer also made history on special teams as he snatched down a Watertown punt in 1983 and returned it 80 yards to paydirt.
See next week's newspaper for the series history and single-game individual statistical leaders from bitter rivalry games with Livingston.
*(most pre-1976 and 1996-2009 stats not yet available)
How they fared
Eight of Clay County's nine other 2013 opponents saw action last week and the group finished the weekend with an even 4-4 record.
Monterey (3-4), Upperman (6-0), Whitwell (2-5), and Macon County (2-4) notched wins.  The Wildcats won the District 7-A Championship by blowing out Jackson County (4-3) 48-6, the highly-ranked Bee team completed their second-consecutive shutout by blanking York (3-4) 56-0, the Bulldogs' next opponent knocked off Lookout Valley (0-6) 47-8, and the Tigers of Lafayette beat Cannon County (1-5) 38-6.
Pickett County (1-6) and Jackson County were joined in defeat by East Robertson (3-4), Red Boiling (1-6), and Clinton County, KY (3-4).  The Indians fell to Nashville Christian (6-1) 35-7, the other Bulldog team was shut out by Goodpasture Christian (3-4) 35-0, and the team from Albany, KY was outscored 50-28 by Lynn Camp, KY (3-3).
Lancaster Christian of Smyrna (5-0) had the week off.
Clay County's 10 opponents now sport an overall combined losing record of 30-36.