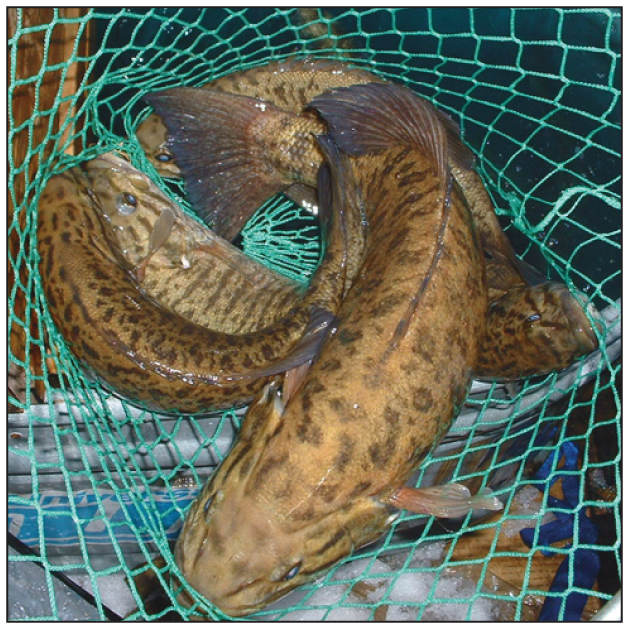 By THOMAS P. WEAVER, HORIZON Editor
DALE HOLLOW-As reported last week, the Tennessee Wildlife Resources Agency (TWRA) recently released their findings from an extensive investigation into what may have caused the die-off of some smallmouth bass here on Dale Hollow Lake during the summer of 2012.
Adverse effects of the event have been evident this year at times, but fishing here continues though results are somewhat below anglers' normal expectations of the world-class smallmouth fishery.
After ruling out any virus, bacteria, parasites, and other diseases that could have resulted in "long-term consequences" for the lake's prized species, TWRA's report pointed to possible environmental and other factors that may have contributed to the die-off.
Last week's story on the front page of the HORIZON–which can be found at www.dalehollowhorizon.com, detailed the possible environmental factors with TWRA Region 3 reservoir fisheries biologist/manager Mike Jolley explaining they "could include, but are not limited to, non-favorable oxygen levels at desired depth ranges which can change daily, harmful algal blooms (HAG's), change in flow regimes affecting water layers and changes in reservoir retention time or other water quality issues."
The article also reported Jolley saying the smallmouth kill could have been "likely caused by the record drought" or a byproduct of "higher than average temperatures which in some cases were record setting" last summer, but the "other factors" were not explained in length due to the newspaper's space limitations.
Fishing pressure is up 60 percent
The biologist was quoted last week saying "another potential cause or contributing factor to the kill was the possibility of post release mortality from angling pressure associated with summer months," and his report backed that statement up with data collected by local TWRA creel officer Danny Stone.
The report explained "angling pressure for smallmouth bass in Dale Hollow has increased significantly over the past decade," citing Stone's work that shows the number of hours fishermen have logged chasing the sought-after species has increased by over 60 percent during that time–representing a fishing pressure explosion for the lake since the turn of the century.
"The angler hours expended in 2000 were 81,976 hours and in 2011 anglers spent 133,899 hours in pursuit of smallmouth bass in Dale Hollow," the report said.  "The amount of trips expended by anglers towards smallmouth bass was 14,053 trips in 2000 and 20,954 trips in 2011 on Dale Hollow Reservoir."
The increased numbers of fishermen visiting the lake corresponds with the institution of the TWRA's protective slot limit in 2000, which has vastly improved the quality of smallmouth bass size and numbers here over the same time period resulting in what the report described as a "banner fishing year for Dale Hollow in 2011 for multiple species according to both anglers and area marinas."
With the improved fishing came more fishermen as word got out about the effectiveness of the limit imposed to protect smallmouth in the 16-to-21-inch size range.
More fishermen enjoying successful trips meant more fish were caught and released leaving them vulnerable, especially during the heat of the summer months.
Tournaments may have contributed
The report also detailed the mortality rate for fish that are caught, transported, and weighed in at summertime fishing tournaments and made recommendations according to the numbers.
"Studies show that when water temperatures exceed 75 degrees that post mortality of black bass caught in tournaments will be near 40% mortality (initial and delayed) and this figure will increase as the water temperature increases," the findings said.  "Approximately 50% of post release mortality fish sink rather than float which sometimes leads to an inaccurate evaluation of actual impacts.
"It is also a fact that smallmouth bass are more susceptible to mortality in summer months than either the largemouth or spotted bass."
Though the report said "possible contributions (to the die-off) by angling mortality (including during tournaments) could not be ruled out," it also explained many of the fish found were "a considerable distance off shore and not next to a launching ramp" pointing to the fact the "larger influence" of the die-off was due to "some type of environmental factor."
Jolley said "typically tournament organizers and anglers make great efforts to be good stewards with fisheries resources" and commented that "their efforts should always be applauded when conservation efforts are made and followed as they normally do," but the report did recommend limiting the number of summertime tournaments held here.
"Anglers can be part of the prevention of some summer fish kills in the future by making efforts to not schedule tournament events when water temperatures are greater than 75 degrees," the report said.
See a future HORIZON for more from the TWRA report, including positive numbers from this spring's electrofishing survey and details about the fact the kill had a greater effect on the lake's population of older/larger fish.
To read Jolley's report in its entirety, visit http://tn.gov/twra/region3/dhollowfishkill.pdf.