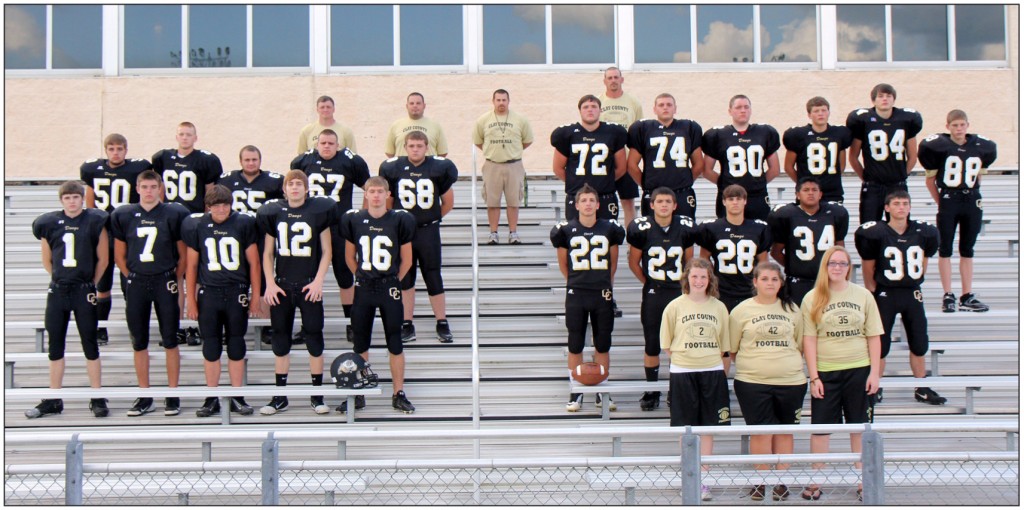 Published August 28, 2013
By THOMAS P. WEAVER, HORIZON Editor
CELINA-With a new head coach, a new schedule, and several new players, the Clay County High School football team is set to make a fresh start here at Bulldog Stadium this Friday night at 7:30 p.m. as they face off with East Robertson, a new Class A opponent hailing from Cross Plains, TN in Robertson County.
With proven program-builder and seasoned head coach Chad Barger at the reins since spring, the inexperienced team has already made great strides in the pre-season faring well with stiff competition including perennial playoff contender Jo Byrns, and two tough 8-AA squads–Dekalb County and York Institute.
"We stepped up the competition in the pre-season and the kids have responded," Barger said.  "They've already got a little more pep in their step after seeing they can hang with teams like that."
Though the Indians have never set foot on Coach John Teeples field, history shows the Dawgs and East Robertson have battled in the past.  The two teams faced off 4 times back in the mid-70's and mid-80's.  They also had a showdown in the 1968 Blanket Bowl (see related subhead).
Barger said he felt his Bulldogs matched up well with the current East Robertson team.
"We are very similar teams," the coach said.  "They've got a tailback that will get 80% of their touches and we've got to limit his effectiveness.
"If we can do that and put a score or two on the board then we've got a good chance to win."
The Indians fell to Donleson Christian Academy (DCA) last week by a score of 43-7, but Barger said he didn't put much weight on that score.
"They actually scored first on DCA and were only down two touchdowns at the half," he said.  "Playing a private like that and competing means they are pretty good.
"We'll know Friday night when our kids get out under the lights for the first time."
Defense
Barger said he had confidence in his team on the defensive side of the ball after they held high-powered offenses to limited scoring opportunities during the pre-season.
"I thought we defended well in the scrimmages," the coach said.  "Those were some good teams capable of putting up a lot of points and we hung in there with them."
Defensive coordinator Daniel Strong explained the Dawgs would run a "split 4" scheme featuring a "shaded nose guard" with the "strong side" of the defense looking like "a 50" and the "weak side" resembling "a 40" defense.
"It's a hybrid scheme," Strong explained, "and it seems to be working pretty good for us so far."
Barger said the strength of the defense was his linebacking corps featuring senior J.R. Fraga, his brother junior Matt Fraga, and sophomore Dalton Smith–who is filling in for the injured senior Tyler Strong.
The defensive front is anchored by sophomore nose guard Tyson Flemming and senior Carl Ledbetter (DE), while senior defensive tackle Taylor Strong and defensive end Mitchell Short (Junior), who are out with injury, are being replaced this week by junior Jordan Collins and senior Brandon Owens.
Senior Chris Nagy leads the defensive backfield at strong safety, sophomore Wyatt Mabry will roam at free safety, and senior Harley Smith and sophomore Clay Copas will hold down the corner positions.
Key defensive reserves will include junior Brandon Stewart (CB/SS), junior Latrone Bowman (LB), and sophomore Matt Maxfield (DT).
Offense
Barger said he would serve as the offensive coordinator calling the plays for his pistol wing-T attack set to feature a power running game, some option, jet sweeps, play-action passes, and much more.
"It's a very adaptable offense," he explained, "and with J.R. (Fraga) as our feature back, we should be dangerous at times.
"Our offense starts and ends with him, but we've got plenty of other options to mix it up with, too."
Fraga, the team's leading rusher last year, will be joined in the backfield by his brother Matt at fullback, while Smith will also see touches at the other half-back.
Nagy and Stewart will share snaps at the quarterback position and their coach said the players complement each other.
"Nagy is the best runner, while Stewart can get the ball down the field for us," Barger said.  "Their combined efforts will keep teams guessing."
Mabry and Owens will be the signal-callers' targets down the field as they alternate at the tight end position and Copas will split out at wide receiver, but none of that will be possible without the guys up front.
Senior Sloane Tiernan sets the tone at tackle, while Maxfield will hold down the other side for the injured Tyler Strong (senior).  Ledbetter and Flemming will start at guard and Collins is in the middle at center.
Key offensive reserves will include Bowman in the backfield and seniors Cody Jolin and D.J. Laureigh up front.
New schedule
With the recent TSSAA realignment, the Bulldogs are no longer a part of the what many described as the toughest Class A region in the state.  Leaving "The Big Three" of annual potential State Champions–Trousdale County, Friendship Christian, and Gordonsville behind, Clay County joined Jackson County, Monterey, and Pickett County in the newly formed four-team District 7-A.
The move increased their number of non-conference games from a mere two the last few years to a half-dozen this year, bringing several new opponents to their 2013 campaign.
"Our schedule gives us more opportunity to be successful than it has in the past," Barger explained.  "We should be able to matchup with almost any team on it this year.
"That couldn't be said before with the way the old region (4A) was set up."
After hosting East Robertson Friday night, the Dawgs will hit the turf at Tennessee Tech's Tucker Stadium in their first conference matchup on September 6 with rival Monterey.  The following week (9/13), they will return home to face a tough Upperman team before making the trip down the river to take on an upstart Jackson County squad on September 20 in their second district game.
September 27 will mark Clay County's homecoming contest with Red Boiling Springs and they will then open the month of October (4th) with a home conference game against Pickett County.  A pair of unfamiliar road trips to Whitwell (10/11) and Lancaster Christian Academy in Smyrna (10/18) come before a two-game home-stand to finish the regular season–Clinton County (Albany), KY on October 25 and Macon County on November 1.
Playoffs
The Bulldogs have only been to the playoffs one time in the last 10 years, but coach Barger is optimistic about their chances to make it two this year.
"Our ultimate goal is the postseason," he said, "and, honestly, we want to be the first District 7-A champion of the new era."
In order to get a guaranteed shot, the Dawgs have to knock off two of the three conference foes they will face.
"We've got to beat Pickett and either Jackson County or Monterey," Barger said.  "That gives us an automatic bid, but if we don't we still have an outside shot if we can break even or win more than half our games.
"That's not what we want as a goal right now–we don't want to back into the playoffs… we want to earn it by winning the district title."
Looking back
Historical numbers compiled by coach Strong from newspaper archives show the Bulldogs have a 4-1 record against East Robertson, highlighted by the 22-6 Blanket Bowl win of 1968.
The bowl appearance was the fourth and final for the late legendary Bulldog head coach John Teeples and was the only bowl win of his career.  Highlights from the contest include an 88-yard kick-off return for a touchdown by Butch Young and another score via a 76-yard interception return by current director of schools Jerry Strong.
Other Clay County legends also fared well against the Indians in the past as prolific tailback Jimmy "Crank" Hull once scored four touchdowns (1985) and Jason "Narhead" Hamilton racked up 186 yards rushing in the last meeting with East Robertson back in 1986.  Kenny Garrett also had 16 tackles in the 20-6 victory, while Ricky D. Barlow returned a punt 68 yards for a touchdown against the team in 1977.
How they fared
Nine of the Dawgs' 10 upcoming opponents played last Friday night (Week 0) and came away with a combined 4-5 record.
East Robertson joined Monterey, Red Boiling, Clinton County, and Macon County on the losers side.  The Wildcats fell 54-6 to Cookeville, RBS was blasted 40-6 by Jackson County, and Macon County was beaten 29-0 by Trousdale County.
Pickett County got their first win in several years by downing Clinton County 17-15 and Whitwell knocked off Mt. Juliet Christian 31-21.
A powerful Upperman team dominated the defending Class A State Champion Gordonsville Tigers 60-14, while Lancaster Christian sat idle like the Bulldogs last week.