2011 Year in Review
State tourney run, HOF formation, mother nature, and a future schools director change make top five
By THOMAS P. WEAVER
HORIZON Editor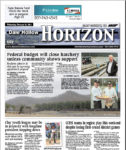 CLAY COUNTY-With the release of President Barack Obama's federal budget for the 2012 fiscal year the community here learned the Dale Hollow National Fish Hatchery (NFH) was on the chopping block.
Stories reporting news of that fact and reports of negotiations to remedy the situation that followed have graced the HORIZON's front page throughout 2011, therefore the funding dilemma, which could have a huge negative impact on the local economy, has been chosen as the top news story of the year by the HORIZON staff.
Highlighting the other top news stories of the year was the Clay County Bulldog basketball team's inspiring run into the state tournament, the formation of the Clay County Sports Hall of Fame (CCSHOF), another round of mother nature's fury, and an upcoming schools director change.
1.  Federal budget to close hatchery if reimbursement is not secured
Local residents, workers, and officials were shocked to learn the Dale Hollow NFH was scheduled to be closed in only a few short months when the HORIZON first reported the surprising news in a front page story on February 23.
The report explained the closure could possibly eliminate eight full-time local employees, affect over 800 other related jobs in the area, and put an end to a total economic output of over $75 million.
"It's still a proposed budget at this time that will be debated in Congress," hatchery manager Andy Currie, a 30-year NFH system veteran, said in the initial story, "but it says it will happen if full reimbursement is not obtained from what they call the 'responsible agencies.'
"We're just hoping for the best right now."
The 'responsible agencies' being asked to reimburse the NFH system Currie referred to in his quote include those who are responsible for the waters serviced by the hatchery–the U.S. Army Corps of Engineers (Corps), Tennessee Valley Authority (TVA), and two other out-of-state agencies.
Clay County Mayor Dale Reagan's reaction to the news was also a part of the HORIZON's coverage.
The story said Reagan explained he was "really concerned" about the possibility of the hatchery being closed and said he planned on "doing everything he could" to keep the beneficial facility open.
"Before they make any drastic decisions like this, they need to consider the fallout this will have here on our local community and economy," Reagan said.  "The hatchery is a great asset to our area and if it closes it could be devastating.
"We've got to all work together to get this stopped.  If we don't all voice our opinions, it will happen–because they'll think nobody cares.
"It's going to take the voice of everybody to get this done," Reagan continued.  "There's no doubt this would create a huge negative impact on our already struggling economy… that's why we all need to contact our representatives in Washington to express our opposition to this.
"Given these days and times, complacency could be a real problem.  We've got to act now.
"We don't have much time left and that is why I am asking everyone to do their part now."
Reagan's call for help was answered and news of that fact was released in the June 8 edition of the HORIZON via a front page headline reading "Hatchery shutdown averted," but it was the subhead that told story.  It read "U.S. Fish and Wildlife Service (USFWS) to fund facility in 2012; Corps/TVA money still required to sustain permanent operation."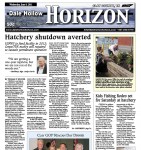 To date, the Corps has partially held up their end of the bargain, but TVA has yet to offer any form of reimbursement.
The story said word of the good news came in the form of a statement from the USFWS office in Arlington, VA after a series of meetings were held between USFWS southeast region assistant regional director of fisheries Linda Kelsey and southeast region deputy regional director Mark Musaus.
"The Service (USFWS) pledges to keep its mitigation hatcheries in the Southeast (including DHNFH) open and operating in fiscal year 2012 (even) if it doesn't receive full mitigation funding, but this approach is not sustainable in fiscal year 2013 and beyond," USFWS public affairs officer Valerie Fellows said in a statement released Wednesday, June 1.
Fellows' news offered a big sigh of relief for local officials, but her statement wasn't exactly what they wanted to hear.
"That is great news," local chamber of commerce head Ray Norris told the Cumberland Business Journal (CBJ) after he heard the news. "Now we have to really get busy and connect with the right people to keep it open permanently."
The CBJ, a news magazine distributed to businesses all across the Upper Cumberland Region, was responsible for breaking the news via their website (www.ucbjournal.com) the week before the HORIZON hit newsstands.
The article by CBJ Editor Greg Little also included a comment from mayor Reagan.
"I am proud of that," Reagan said when told by the CBJ about the news from Washington. "But I know that we can't just sit back. We need to stay in negotiations and in contact with our senators and congressmen to figure out a permanent fix to this thing."
We are now a quarter into the current fiscal year and no news has been reported updating the situation, but a HORIZON front page news story on November 30 did release the fact the fight was still ongoing and reported a Trout Unlimited group planned to travel to Washington to speak with legislators.
A local support and lobbying group called The Friends of the Dale Hollow National Fish Hatchery has also been formed.  They meet regularly and are formulating their own ideas towards resolving the matter.
This story is ongoing and could possibly continue its reign as a top news story in the coming year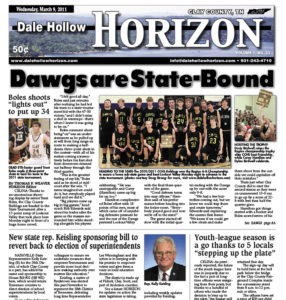 2.  Bulldogs make history and inspire community with state tourney run
The 2010-2011 Clay County Bulldog basketball team made only the fifth state tournament appearance in school history this year and inspired an outpouring of community support from residents in and around Clay County and all across the Upper Cumberland.
"It means everything," head coach Rob Edwards said about the amazing display from the community in a front page story in the March 23 HORIZON.  "The kids were amazed to see everybody lining the streets in town to send us off that morning and the huge crowd that showed up down there in Murfreesboro.
"When you've got that kind of support behind you, it's special.  I just wish things would've turned out a little better for the home crowd."
The Dawgs lost their first-round game to Perry County, but still made history by making their state tournament bid.
The coach, whose team claimed the Region 4-A championship and won their sub-state game over Lookout Valley to reach the finals, said his team has nothing to be ashamed of.
"It's real disappointing when you expect to play well and compete and you don't do it," Edwards said, "but, at the same time, you have to remember this team was one of the best eight teams in the state.
"Whether you finish number one or number eight, it's still quite an accomplishment for these guys."
"You don't want to be happy with just getting there, but you can't dwell on the fact of getting beat in the first round," he said.  "These guys have battled all year and they should be proud of where that took us."
The squad was led by senior standout Trent Boles and his performance in the sub-state (sectional) game is what vaulted his team into the Elite 8 and a front page story on March 9 told the story.
"Thanks to an unconscious shooting display by senior Trent Boles, the Clay County Bulldogs are headed to the State Tournament after a 27-point romp of Lookout Valley that took place here Monday night in front of a huge home crowd," the lead of the story said.
"I felt good all day," Boles said just minutes after realizing he had led his team to a state-tournament bid with the 67-50 victory, "and I didn't miss a shot in warmups–that's when I knew it was going to be on."
Boles comment about being "on" was an understatement as he pulled up at will from long range in route to making a half-dozen three-point shots in the contest–with all of his makes coming consecutively before his first shot from downtown rimmed out halfway through the third quarter.
"This is the greatest feeling of my life," Boles said as he stood at mid-court after the win.  "I never imagined we could do it, but everybody played hard and we did it."
"Big players come up big in big games," head coach Rob Edwards said about his leader after the game as the masses surrounded him as he stood alongside his players celebrating.  "He was unstoppable and Corey (Hamilton) came up big for us, too."
Hamilton complimented Boles' effort with 18 points of his own, most of which came off of unyielding defensive pressure.
"Good defense turns into easy offense," Hamilton said of his performance.  "Everybody played good and now we're off to the state!"
The Dawgs got there via a "road less traveled," and the lead story of a special section preview of their state tournament game published in the March 16 edition of the HORIZON gave the explanation.
The article explained all of the other squads making a bid for the State Championship either won or were runners-up in both their district and region tournaments, but Clay County only accomplished one of the two–winning the Region 4-A title.
A chance at their conference's championship eluded the Bulldogs thanks to an opening-round loss to district-rival Pickett County–which sent them down the path seldom taken.
Despite the early loss in post-season play, the Bulldogs came back to defeat Jackson County in the conference's consolation game to finish third in the district and position themselves to potentially have another shot at Pickett County–who had gone on to become District 7-A champions.
Clay County's first elimination game, their Region opener with Gordonsville, was the only obstacle they had to overcome to get a revenge-game with the Bobcats.
"They wanted to play Pickett again," Edwards said, "but they knew they had to get by Gordonsville to do so.
"We got down in the first half and at halftime they realized it was time to get it done or we were going home.  That's when Matt (Copeland) had a few things to say and everybody responded when it mattered most."
Copeland, who Edwards said has become his team's emotional leader, used his experience as a four-year player to motivate the Bulldogs, including fellow senior and team-standout Trent Boles–who finished the game with 30 points to put Gordonsville away in the final two quarters helping to grant his team's wish of a rematch with Pickett County in the Region semifinals.
Getting there was all it took as Clay County came out on top in their second post-season try at the Bobcats to advance to the Region final.
The Bulldogs finished with an impressive 25-9 record and made a post-season run that will forever be remembered.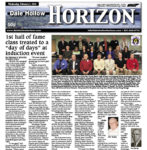 3 .  Clay County Sports Hall of Fame inducts first two classes in 2011
After being formed early in 2010, the Clay County Sports Hall of Fame was busy in 2011 inducting their first two classes into an organization honoring local sports legends.
"We have so many people that have been a part of the county's athletic history that have never been recognized for their accomplishments." CCSHF founder Bobby Westmoreland said in an HORIZON interview the year prior.  "We think this will be something nice to do to compliment them for what they've done."
Westmoreland explained the classes would include, but not be limited to, "athletes, coaches, administrators, donors, and supporters" from all past and present Clay County schools.
"We want to induct contributors from all the communities and schools throughout the county," Westmoreland said.  "They have all been a part of our athletic history, but, unlike many surrounding counties, we have never had a vehicle to celebrate the great achievements of our county's student-athletes and sports characters.
"Clay County will now have many exciting opportunities to recognize those individuals and teams who have made valuable contributions to our sports lore throughout the years."
Through an open nomination process, the hall voted to induct their first class in late 2010 and the first induction ceremony was held in January of 2011.
An account of the "day of days" was reported on the front page of the February 2 edition of the HORIZON and the inaugural class included a cross-section of older and younger members, and includes not only players, but coaches, administrators and support people. Twenty "regular" members were voted in the first class, along with two "heritage" members and two "contributors."
The inductees were Joey Coe, Russell Richardson, Charles Joseph Vaughn, Jeff Arms, Bobby Westmoreland, Mable Brady Brown, Thomas Watson, Joe Sims, Earl Davis, Larry Clements, Billy Westmoreland, James Bartlett, Nola Catherine Pitcock Smith, Bill Napier, Connie Mack Clements, Larry Austin, Amanda Kendall Sharp, Donnie Birdwell, Connie Birdwell Arms, Tracy Strong, John Teeples, David Short, Joe Carver, and Sam Harley Lynn.
Then last month the second class was inducted and announced in the December 7 and 14 editions of the HORIZON.
The new class included Joe Neal Eads, Darlene White Masters, Bobby Bartlett, Teia Burchett Adams, Brian Burchett, Tammy Vaughn Cardona, Donnie Cherry, Jeff Clements, Gary Davis, Kenneth Hamilton, Lauretta Rich Hill, Jimmy Hull, Judy Boone Jones, Kelly Spivey, Doug Strong, James Trobaugh, Danny Watson, Harold Watson, and David Westmoreland.
Nominations will soon be sought for the upcoming class and this event is sure to be one of the top HORIZON news stories for years to come.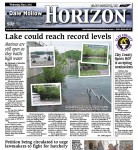 4.  Mother nature sets precedents for the 2nd consecutive year
After the 100-year flood of 2010, you might have thought that mother nature would have given Clay County a reprieve in 2011, but that wasn't the case and she found herself making the front page several times again in the past year.
Twice in May (5/4 and 5/11) and then later on September 7, her actions caused happenings that had never been seen before due to substantial spring rains.
The first report of the affects the above-average rainfall came on the front page of the May 4 HORIZON when the story told of Dale Hollow Lake marina operators fear of rising water levels.
"Water levels here on Dale Hollow Lake continued to rise Monday disrupting operations at local marinas where parts of their facilities are now underwater, but they are still open for business," the story said.  "The level sat at nearly 659 feet above sea level at HORIZON press time and the U.S. Army Corps of Engineers alerted marinas earlier that morning to possibly expect it to rise to 661.5 or higher–which would be a record level for the reservoir since it's opening in 1943.
"It has only reached 659 or higher three times in history, according to historical data from the Corps website."
The story said the top three highest recorded levels are:
• 659.45 in 1962,
• 660.82 in 1984, and
• the current standing all-time high of 660.98 in 1975.
The projection released by the Corps was contingent upon weather and was subject to change, but the possible record level had marina operators scrambling to keep their facilities operational.
All were having problems accessing their docks with the rising water, but many were battling other probelms, including:
•  Dale Hollow Marina had several feet of water in the bottom level of their lakeside lodge and the high water made access difficult;
•  Horse Creek Resort's normal access road was totally submerged and their motel/lodge was surrounded by water, but the launching ramp and marina was still accessible; and
• Cedar Hill Resort's swimming pool became part of the lake, but due to their hillside location no cabins or boat ramps were affected.
The lake was projected to be over 10 feet higher than its normal summer pool–something never seen before, but fortunately that didn't occur thanks to the following week's happening reported on the front page of the May 11 HORIZON.
The headline read "Spillways opened for unprecedented third year straight," and it was a welcomed relief to the marina operators.
The story read:
For an unprecedented third consecutive spring, water began flowing through Dale Hollow Dam flood gates here over the weekend to cut short a nearly record-breaking rise in the lake's level and calm the nerves of area marina operators.
As reported in last week's HORIZON, the U.S. Army Corps of Engineers had alerted marinas "to possibly expect" the lake level "to rise to 661.5 or higher"–which would have been a record level for the reservoir since it's opening in 1943, but, thanks to implementation of spillway releases, the lake topped out short of the record at 660.16 feet above sea level.
From there, marinas experienced some welcomed relief as the lake level fell nearly a foot and a half from Saturday at noon when the gates were opened through Monday morning as of HORIZON press time.  They watched as water receded from around lakeside structures and portions of their parking lots and access roads began to reappear.
Projections from the Corps, which they say "are always subject to change without notice based upon several variables such as weather, operations at other lakes/dams, downstream conditions, etc.," show the lake should continue on its downhill pattern for several more days as the open spillways drop the level around nine inches per day, with those projections depicting a level of 655.5 by the end of the upcoming weekend.
Though it did not become the highest ever, this year's rise did eclipse the third highest elevation on record (659.45 in 1962) by breaking the 660-mark, but it did not surpass the level of 660.82 in May of 1984 or the still-standing all-time record of 660.98 reached on March 15, 1975.
Not only have the flood gates never been opened three consecutive years like they have now since 2009, but water had only been released through the spillways four times in history before then.  Three of those events directly correspond with the previous top three record elevations (1962, 1975, and 1984), and the other came in the spring of 1989 when the lake only reached just over 656.
The third headline came later on September 7 as water quality diminished thanks to the huge spring rains.
That edition's front page told of action taken at Dale Hollow Dam that had never been seen before.
Sluice gates were opened for the first time in history in order to improve water quality below the dam in the Obey River.
Who knows what 'Mother Nature' has in store for 2012, but her actions are sure to be reported in the HORIZON next year.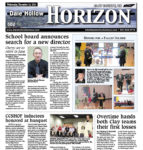 5.  Search for new director of schools is now underway
News of the beginning of a search for a new director of Clay County Schools came via the front page of the December 14 HORIZON and last week's newspaper (12/21) reported the school board planned to waist no time in hiring the new leader.
The announcement came through a retirement letter from current director Donnie Cherry at the December school board meeting.  Once hearing plans of Cherry's retirement, the board immediately began their search by voting to advertise the opening the same week.
The story said results from an evaluation of Cherry's performance were set to be released at the meeting, but the director preempted that process with the announcement of his retirement effective June 30, 2012.
The following week details of the board's plans were released in the form of official minutes from the meeting and the HORIZON front page story said members voted to "review the applications" at the board's regularly scheduled "January meeting" where they will vote "to determine which applicants will receive an interview."
It also explained once the applicant field is narrowed down, the members will convene "at a called meeting in late January" where "interviews will take place."
No updates will be available until after the January meeting, but the future announcement of a new director is sure to be found in next year's edition of the HORIZON Year In Review.
EDITOR'S NOTE:  The HORIZON staff could not include all of the noteworthy news in this 'year in review' story and we realize there were other happenings that warrant the distinction, but due to space limitations only a top five was chosen.