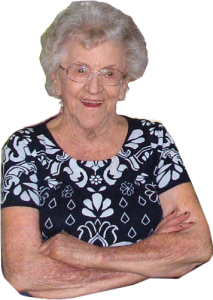 Hattie Reecer Trobaugh, 91
SHERIDAN, INDIANA-Funeral Services for Hattie Reecer Trobaugh of Westfield, IN will be held at 2 p.m. on Thursday, January 27, 2011 at the Kercheval Funeral Home. Visitation will be from 11 a.m. to 2 p.m. with interment following the services at Summitt Lawn Cemetery in Westfield, IN.
Hattie Reecer Trobaugh, age 91, passed away January 22, 2011 at the Riverview Hospital in Noblesville, IN.
Hattie was born July 12, 1919 in Celina, TN to Millard & Flarantha (Stockton) Reecer – both deceased. She was married to Robert Trobaugh – deceased 1978. She retired as a Line Supervisor from Western Electric. She enjoyed her family and friends. She also enjoyed entertaining, cooking and gardening.
Besides her parents and husband, she was preceded in death by sons Feelie Edward Trobaugh, James Edward Trobaugh and an infant son.
She is survived by grandchildren Mary Ann Trobaugh-Thomas of Camby, Indiana; Edward Ray Trobaugh of Sheridan, Indiana; Kiley Jean (Aaron) Trobaugh-Siders of Peru, Indiana; Garrett James (Christy) Trobaugh of Arcadia, Indiana; Robert Feelie Trobaugh of Spencer, Indiana; Zackary Allen Trobaugh; Brandon Michael Trobaugh; and great granddaughter Katherine Hattie Thomas.
Kercheval Funeral Home in charge of the arrangements.