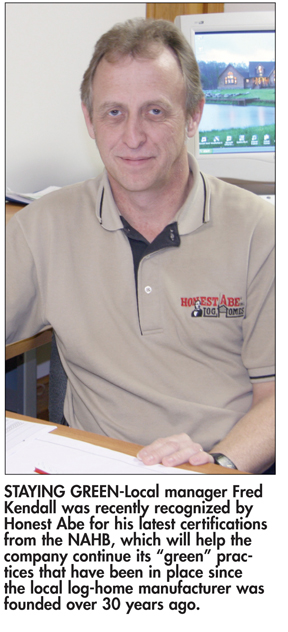 MOSS-Honest Abe Log Homes, Inc., a leading manufacturer of milled log homes here, recently recognized local manager Fred Kendall for recent certifications received from the National Association of Home Builders (NAHB).  
Kendall, who serves as drafting and design manager, is now recognized by the NAHB as a "Certified Green Building Professional" and also completed the "Business Management for Building Professionals" course.
Kendall, whose career with Honest Abe started in 1981, believes this is a critical time for education within the home building industry.  
"In my tenure with Honest Abe, I don't believe I've ever seen such significant change within the markets, and building codes as I have over the past few years," Kendall said.  "We have the opportunity to work on projects located all over the country, where we encounter a myriad of building codes, and it is becoming more important to effectively work in "green" design, products, and practices into our log home projects."
Kendall combines years of experience with invaluable knowledge passed down to him by the NAHB to educate others within Honest Abe's network, including customers.  
Green building seminars, led by Kendall, are scheduled for 2010, and one-on-one consultation will also be available to customers. 
"To some this is about how they can invest a little more money now to realize a more long-term cost savings on energy," Kendall explained.  "To others it is creating the least environmental footprint as possible.
"My goal is to help our customers find where their log home building project fits in, because it's not about dictating what must be done, but more about revealing opportunities for cost savings and conservation efforts, then letting our customers choose how to proceed."
Kendall's recent achievement is a single step in a more comprehensive approach to Honest Abe's "green building initiative."
The company, located in the rural farming community here, has had "green" manufacturing practices in place since its infancy, and it is just one of several wood related companies with private local ownership.   
Jackie Cherry, vice-president of manufacturing, said, "It has always been important for us to be good stewards of the natural resources we utilize–what many call 'green', and we have always been recognized as being efficient while also maintaining proper forestry management."
Explaining how Honest Abe even uses hardwood sawdust–a by-product from a sister company, Cherry said, "Rather than use natural gas or electricity to heat our kilns, we use sawdust.  
"This is a very economical way to dry our logs, and also makes use of a resource that might otherwise be wasted."
Kendall and others at Honest Abe plan to expand on their "green building initiative."
"Our overall goal is to help customers make educated decisions, to help builders make appropriate changes, and to continue to improve our own manufacturing and design procedures to minimize our impact on the environment," he said.
About Honest Abe
Founded in 1979, Honest Abe Log Homes, Inc. is located in the rural community of Moss, TN, and is a privately held, family owned and operated company. 
From its modest beginnings, the company saw steady and consistent growth, and is recognized as a leading manufacturer of log homes throughout the United States.  
Honest Abe sells and delivers log homes nation-wide through four company-owned models in Tennessee, and through a network of independent dealerships throughout the country.