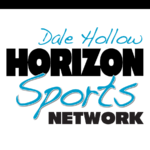 CELINA-After a successful season of Clay County High School football live-stream broadcasts, the Horizon Sports Network (HSN) has announced they will also be carrying both Bulldog and Lady Bulldog basketball on this website—www.dalehollowhorizon.com.
A 10-game regular-season slate will begin with a Tuesday, November 21 broadcast of a CCHS home contest versus Van Buren County—which will tip off the network's "Game of the Week" coverage throughout the season.
"With our weekly broadcasts and those WLIV will be covering throughout the season, listeners will be able to tune in to a vast majority of Clay County's games, if they can't make it out to them in person," HORIZON editor and network analyst Thomas Weaver said. "We are excited to work with Livingston's long-running radio station to offer the best possible coverage of Bulldog and Lady Bulldog basketball this season."
Weaver said he will be accompanied by HSN play-by-play announcer Daniel Strong and new color analysts Joe Sims and Thomas Watson.
"I can't say enough about the job Daniel did during football," Weaver said. "I'm excited to have him back as the voice of the Bulldogs for another sport.
"And he and I couldn't have found anyone better than these two coaching legends to join us," Weaver continued. "What coach Sims and Watson will bring to the broadcasts will be outstanding, due to their vast knowledge of Bulldog and Lady Bulldog history, along with their coaching experience and overall game expertise.
"We are honored to have those two on board for this season on the hardwood."
Clay County's season-opener against Livingston Academy next week (see related story) comes prior to HSN's first broadcast and will be carried on standard radio by WLIV (104.7 FM). The neighboring-county radio station also plans to cover four other regular-season contests, along with CCHS' holiday tournament games.
See future HORIZONs for the upcoming week's broadcast schedule from both HSN and WLIV.
How to listen
Listeners can easily access the Horizon Sports Network's live feed by visiting the newspaper's website at www.dalehollowhorizon.com—where a button, featuring the HSN logo (pictured with this article), at the upper right hand corner of the homepage will lead them to a live-player. There, with a single push of the play button, the broadcast will begin.
On the same page below the live-player, there is a "Game/Event archives" link for a page containing all prior broadcasts.
All WLIV broadcasts can be heard by tuning your radio dial to 104.7 FM or visiting www.wlivradio.com.