CLAY COUNTY-Residents here will soon need to renew their annual hunting and fishing licenses, according to a release from the Tennessee Wildlife Resources Agency (TWRA).
February 28 will mark the expiration of the 2008-2009 permits, and the date coincides with the time when most hunting seasons in the state end and the prime fishing begins. 
Although the old license has not expired yet, new licenses for the 2009-2010 year have been on sale since February 18.
Resident licenses may be purchased by: 
• persons who possess a valid Tennessee driver's license; 
• persons who have lived in Tennessee for 90 consecutive days with the genuine intent of making Tennessee their permanent home; 
• military personnel on active duty in this state and their immediate families, who reside with them, regardless of resident status; and
• students who are enrolled in a Tennessee school, college, or university for at least six months. 
A social security number is required to purchase a Tennessee hunting or fishing license and they can be obtained at any local licensing agent here.
They may also be purchased online and charged to a credit card or may also be ordered by telephone and charged to a credit card by calling 1-888-814-8972. 
All licenses purchased by credit card will be charged a $3.95 processing and handling fee. To expedite telephone orders, the caller should have ready: name, address, physical description, Social Security number, driver's license number, TWRA ID number (if renewal), and credit card number.
Licenses are printed on a special tear-resistant, water-proof paper. In case of a lost license, duplicate licenses can be obtained from any REAL license agent for a $7.00 fee.
All new fishing guides are out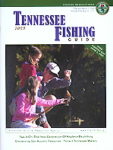 CLAY COUNTY-The 2009 Fishing Guide is now available as provided by the TWRA and residents here can find them at any TWRA regional office and anywhere state fishing and hunting licenses are sold.
A downloadable version will also soon be available on the TWRA website:  www.state.tn.us/twra,
The guide is printed in a color magazine format again this year and it has regulations for the coming year (effective March 1). Features in this year's guide include Tennessee's next generation of anglers, conserving aquatic resources and the protection of Tennessee waters.
Information on Tennessee's Angler Recognition Program is also provided as is identifying fish, and the listing of Tennessee's record fish. Contact information for the water release information for TVA and Army Corps of Engineers dams in the state is also listed.
TWRA announces new director and board chair
NASHVILLE-Ed Carter has been named the new executive director of the Tennessee Wildlife Resources Agency (TWRA) and Livingston's Johnny Fred Coleman will assume the role as the 2009-2010 Tennessee Wildlife Resources Commission (TWRC) chairman. 
Carter and Coleman were selected in a vote by the 13-member Tennessee Wildlife Resources Commission (TWRC), the governing body of the TWRA, during the regular February meeting of the commission held here Thursday at the TWRA Region II Building.
Coleman is a well-known local businessman and owner of Mid-State Construction Co. in Livingston–a general contractor specializing in commercial building, bridge repair, and utility work.
He is actively involved in family farming and is a fishing and hunting enthusiast–particularly duck, deer, and turkey. He and his wife Carol have three grown children.
Along with Coleman, Carter–the current Chief of the TWRA Boating Division, will assume his new duties on March 1. He is replacing the retiring Gary Myers, who has served as TWRA Executive Director since 1978.
Carter's career began with the TWRA in 1972. He served as an education representative, hunter education coordinator, acting chief of the Information and Education Division, education and law enforcement training officer and a Region II assistant regional manager. 
He became TWRA's Chief of the Boating Division when the division was formed in 1990. TWRA is the sole state agency charged with the responsibility for boating safety.
In addition to his supervisory positions within the TWRA over the years, he has served in leadership positions for several regional and national organizations and has received numerous accolades and honors during the course of his career.
Recent leadership positions have included a term as president of the National Association of State Boating Law Administrators, president of the Southern States Boating Law Administrators, chair of the National Safe Boating Council, a member of the executive board of the Canadian Safe Boating Council, and as the TWRA Emergency Services Coordinator for more than 16 years with the Tennessee Emergency Management Agency. He is a member of the State Homeland Security committee.
Carter was a recent recipient of the USCG/USPS (United States Coast Guard/United States Power Squadrons) Eagle Award for Significant Contributions to Boating Safety. Other awards and citations for Carter include the NASBLA Bonner Award, NASBLA Lifetime Achievement Award, U.S. Coast Guard Public Service Commendation, and in 2006, the Tennessee Legislature passed House/Senate Resolution 735 recognizing Carter for meritorious service to the State of Tennessee. 
A native of Hawkins County, Carter is a graduate of the University of Tennessee. He and his wife of 34 years, Karen, have three adult children Mark, Tracie, and Christie.
Introducing some young sportsmen
CELINA-Included in this week's Outdoor Notebook are a variety of photos of outdoor accomplishments, including a few young sportsmen.
There's nothing like seeing the smiling faces of youngsters like Gus Conkin with a big smallmouth, Jon Wayne Browning and his brother with their catch of the day, and Trace Browning with a good buck.
If you have any photos from the outdoors you would like to see appear in this column–whether they are of your trophy buck, a big fish, or from any outdoor contests, we would love to have them.
Give us a call at 243-4710, email them to us at [email protected], or drop them by the HORIZON office on the square.  We can scan them and hand them right back, or we also accept digital files.
Fishing slower here on the lake
DALE HOLLOW-The Tennessee Wildlife Resource Agency's (TWRA) fishing report of February 11 showed fishing to be slow here.
The agency said the lake level was slowly rising and reported the water temperature around 40 degrees.
It showed a few good smallmouth were being caught on the float 'n' fly method and on jigs while fishing channel banks in 10 to 35 feet of water.
The report also said a few crappie were being caught around grass on minnows in 10 to 15 feet of water.
The information explained all other fishing was slow at that time.