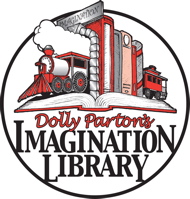 NASHVILLE-Governor Phil Bredesen today announced that parents and caregivers in all 95 counties can now easily register children under age five for the Imagination Library online at www.GovernorsFoundation.org.  The Governor made the announcement as he and First Lady Andrea Conte launched "Read to a Child Month" at the Nashville debut of a children's play adapted from the Imagination Library's most popular book, Llama Llama Red Pajama.
Originally created by Dolly Parton, the program mails a new, age-appropriate book every month to registered children from birth to age five — at no cost to the family, regardless of income.  Providing online registration allows the Governor's Books from Birth Foundation® to expedite the registration process, save the program thousands of dollars in printing costs and reduce its net environmental impact.  
"With half of the state's children under age five enrolled in Imagination Library, we have to get creative about how we reach and register the other half of our state's eligible population," said Bredesen.  "Today's parents of young children are computer-savvy and routinely access the Internet for a whole host of transactions.  With every county participating in online registration, registering a child is now faster, easier, and more convenient.  I am hopeful that with these improvements, we will move even closer to instilling a love of books and reading—at the earliest possible age—in all Tennessee children."
Since Tennessee's statewide program kicked off in Oct. 2004, enrollment of under-five children has primarily been handled through a simple registration form inside a paper brochure, commonly available at public libraries. Parents and caregivers hand-write the child's information on a tear-off sheet, and then mail it their county Imagination Library.  Books addressed to the child begin arriving at the child's home 7-9 weeks after the form is received.
The ease and accessibility of registering newborns and toddlers from a home computer could result in an influx of new registrations that might not have otherwise been captured.  While the state's urban counties were the first to begin offering online enrollment, the GBBF enlisted participation in e-registration from its grassroots partners in every Tennessee county until all 95 had activated the Web-based feature.
The governor announced statewide online registration at the Nashville premier of a children's play adapted from the much-loved Imagination Library books authored by Anna Dewdney.  The stage performance of Llama Llama Red Pajama (along with its sequel, Llama Llama Mad at Mama) was commissioned for Dolly's Imagination Playhouse in Dollywood family amusement park (Pigeon Forge, Tenn.).  Dolly Parton appears in a video as part of the Llama Llama Red Pajama performance, singing I'm Here, a children's lullaby she wrote to accompany the play.
Anecdotal feedback – from parents of enrolled children and Imagination Library volunteers nationwide—suggests that Llama Llama Red Pajama is perhaps the most popular title out of the entire 60-book series.  The Penguin Players are sponsored by Penguin Group (USA), publisher of all books in Dolly's Imagination Library.  A blue-ribbon committee of childhood education experts carefully selects the age-appropriate books for the program.
Fifty-five percent of Tennessee's total eligible population—over 206,000 children under age five—is currently enrolled in the program and will receive a free book in April.  The cost of purchasing and delivering books—$28 per child, per year—is split evenly between a non-profit sponsoring organization in every county and the GBBF.  A core mission of the GBBF and its local partners is to enroll any and all eligible children in the program.  As public awareness for the Imagination Library continues to build, the Foundation also assists a statewide network of dedicated volunteers with fund-raising efforts to cover half the cost of the books.
Tennessee Technological University's BusinessMedia Center serves as the GBBF's exclusive in-kind sponsor for www.GovernorsFoundation.org.  Register a child online or by calling the Foundation toll-free at 1-877-99-BOOKS.