Celina beats Pickett to
win James C. Haile title
By THOMAS P. WEAVER
HORIZON Editor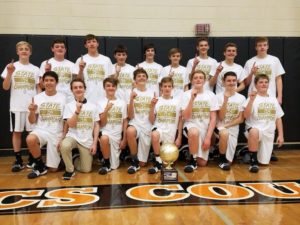 MURFREESBORO-The Celina K-8 Junior High Bulldog basketball team completed a perfect season here over the weekend with 52-38 victory over previously unbeaten Pickett County, to win the James C. Haile Class A State Championship.
After waltzing through an undefeated 16-0 regular season, the Jr. Dawgs dominated Lebanon's Friendship Christian School 68-14 in the opening round, dropped a talented Thurman Francis squad from Smyrna 44-33 in the elite eight, and advanced to the championship with a 53-16 final-four blowout of Hilham.
In the title game, Celina jumped out to an early 14-2 lead, behind a 12-0 run sparked by Jeffery Spivey and finished off by Grant Strong.
Spivey, who led the Jr. Dawgs with a game-high 17 points, scored seven-straight—including a three and a pair of layups. Strong then put up the first five of his 14-point outing with a deep trey and a pull-up jumper, to complete the unanswered sequence late in the opening period.
But that's when Pickett County woke up and ripped off a 14-0 spurt of their own, to claim their first lead with just over a minute to play in the first half.
With the Jr. Bobcats leading 16-14, Keaton Arms—who joined Spivey and Strong in double-figures with 10 points in the contest—stopped the bleeding with a basket. Carson Sharp then answered a Pickett County three with a pair of free throws and Celina headed into the break down one, 19-18.
The back-and-forth continued deep into the third, before the Jr. Dawgs took control with a decisive 13-0 run spanning the remainder of the period and extending well into the fourth quarter.
Effort and stifling full-court pressure—led on the front end by Spivey, Strong, Sharp, and Alec Kerr—produced easy baskets for Celina and willed them to the championship.
The Jr. Dawg rally was ignited by Arms saving the ball from going out of bounds under his own basket to assist Spivey for an easy two. Strong then converted a steal into points, Arms scored in transition, and Spivey dropped a dagger three-pointer as the third-frame buzzer sounded.
Up 31-24, Celina continued their assault to open the fourth quarter. Kolby Boles made one from the charity stripe, Arms put back an offensive rebound, and Spivey hit a free-throw to give the Jr. Dawgs a 35-24 advantage they would never relinquish.
Pickett County finally ended their drought midway through the fourth, but Strong and Sharp answered the Jr. Bobcat score with back-to-back layups, to push Celina back out to a 13-point lead (39-26) with under three minutes remaining.
Pickett County did immediately cut it back to eight (39-31), but that's as close as they would get. The Jr. Dawgs sealed the deal by outscoring the Jr. Bobcats 13-7 down the stretch and Celina secured the title and a perfect 20-0 season with the 14-point victory.
JR. DAWGS (52)-Spivey 17, Strong 14, Arms 10, Sharp 8, Kerr 2, Boles 1.