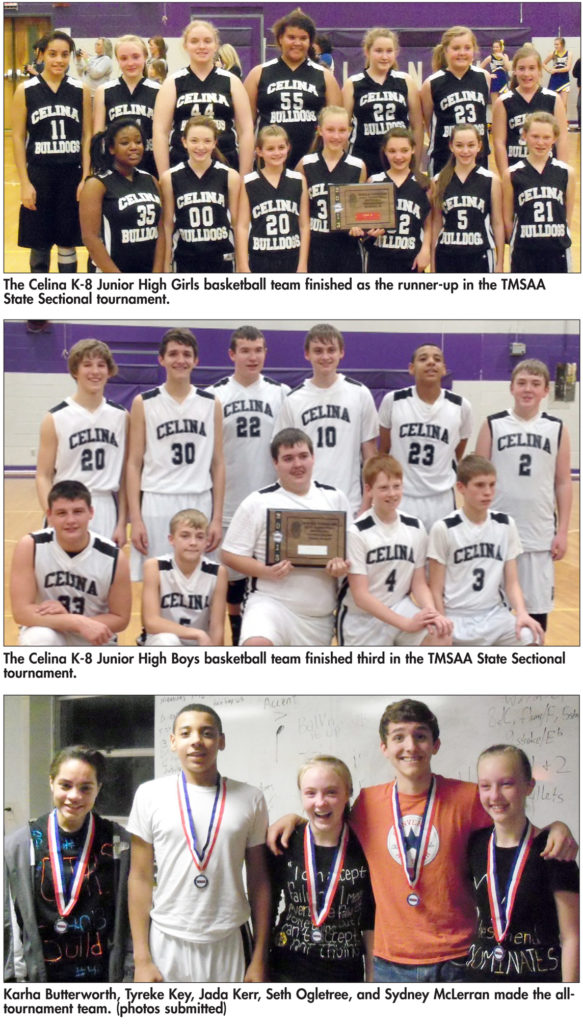 WHITE BLUFF, Feb. 6, 2013-Last week the Celina K-8 Junior High basketball teams were very busy traveling back and forth to White Bluff, TN to compete in the 2013 Tennessee Middle School Athletic Association (TMSAA) State Sectionals, where they both faired well finishing their respective seasons among the best in the state.
The girls carried home a runner-up trophy and the boys ended their season with a win in the consolation game to finish third in the Middle Tennessee Region.
The girls reached the final four by knocking off Collinwood Elementary 40-31 behind nine points from Sydney McLerran and eight each from both Jada Kerr and Karha Butterworth; while the boys found themselves two games away from a championship by dominating Elkton 42-26 thanks to a 17-point performance by Seth Ogltree and 13 more from Tyreke Key.
Scoring for the girls was rounded out by Caprice Garrett (6), Brittany Boone (4), Kenzie Adams (3), and Morgan Stewart (2).  The boys' final point-total was made up of six from Logan Watson, five by Peyton Smith, and a free throw from Matt Ledbetter.
The girls quarterfinal game resulted in a win over South Lawrence by a final score of 30-20.
Celina came out strong with a 19-4 halftime lead and then lost momentum going into the second half.  South Lawrence came out aggressive and made it a game, but they fell by the 10-point margin thanks to Butterworth's game-high 12 points.
McLerran and Boone had five each, and Kerr and Garrett finished with four apiece in the win that advanced the team to the championship round.
There they faced an undefeated New Prospect team and couldn't withstand the talented squad's onslaught as they fell in the championship 51-28.
"The girls played three great games, but New Prospect was on fire and we just couldn't score with them," head coach Teia Arms said.  "I'm very proud of this team for accomplishing what they have this year and bringing home the State Runner-up Trophy."
Butterworth was again the high-scorer with 10, while Keely Watson (5), Jaden Williamson (4), Garrett (4), Emmy Upton (2), Kerr (2), and McLerran (1) combined for the team's final point total.
The boys quarterfinal contest didn't turn out as well as the girls as they came out on the short end of a 49-39 score losing to eventual champion William James Middle School.  Key and Caye Strong had nine points each, Watson and Ogletree scored eight apiece, and Smith added five in the loss sending the team to the consolation game where they would play for third place.
Celina took that rank in convincing fashion blowing out McEwen 57-27.  Ogletree again had a game-high 17, while Watson and Key added 14 each in the big win.
Strong finished with eight, and Briley Rich (2) and Garrett Franklin (2) rounded out Celina's scoring.  Smith found himself in foul trouble in the final game, but Ledbetter picked up the slack as a rebounding force inside.
Ogletree and Key were named to the boys All-State Sectional team, and the girls were represented there by Butterworth, Kerr, and McLerran.