CELINA-With the Clay County High School football team enjoying an off-week after their blow-out win over Taft Youth Center to open the season, four other local teams took to the field to keep the fans busy here last week.
The Celina Junior High football team has opened their season with an undefeated record, and the three local Junior Pro teams saw their first regular season action last Saturday.
The CJHS Bulldogs used a pair of 100-plus-yard rushing performances from Taylor Brown and Mitchell Short to take their season opener against Jackson County by a score of 22-12 and they then outdistanced Cornerstone Middle School in their second game of the year last week beating them 12-6.
With the pair of victories, the local junior high team jumped to the top of their conference division with two more games to go to decide the division champion.  With a win over either Livingston or Fentress County, they could go into the conference championship as a top seed.
The remainder of their schedule will include home games with Smith County Thursday, September 2, Algood Tuesday, September 7, and Livingston on Thursday, September 9.
They will then travel to Burks Middle School on September 16, be back home versus Fentress County on September 23, and finish the regular season at Cannon County on September 30.
The conference championship will be held here October 9, where the top two teams from each division will compete to decide the champion.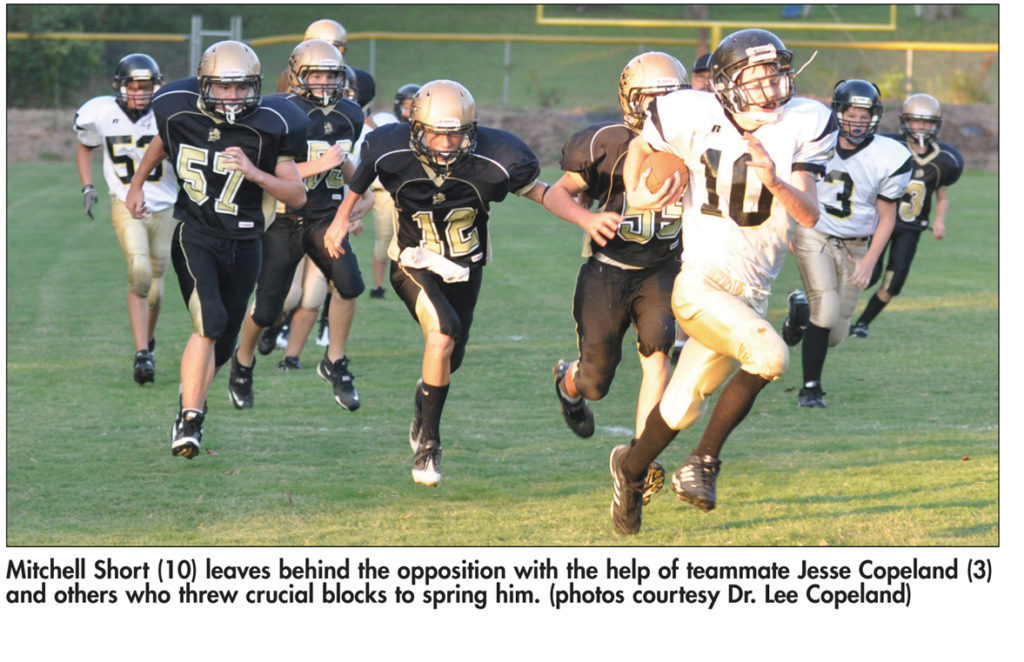 Junior pro
The local Junior Pro teams saw their first action here last Saturday against Watertown in three divisions.
The Junior B team came out on top in their game by a score of 12-0 with Alec Kerr and Grant Strong scoring touchdowns.
The Junior team had a tough opener going scoreless and losing by a margin of 44-0 despite a great effort by the team.
The Senior squad saw Logan Watson run for a touchdown before he and Michael Bloomfield went down to injury early in the game.  Seth Mackey also picked off a pass, but the team fell by a 40-6 margin.
Their next action will take place at Jackson County with game-times being 3 p.m., 4:30 p.m., and 6 p.m.