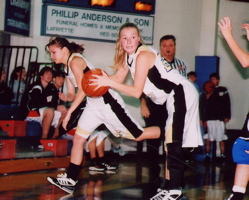 ALONG THE SIDELINE-Lady Bulldog Katie Kerr grabs the ball and tiptoes near the sideline in action from Nera White holiday tournament in Lafayette, as teammate Sarah Ogletree, also in pursuit of the ball, lunges toward the stands.
LAFAYETTE-The Clay County High Lady Bulldogs split their two games in the Nera White holiday tournament here last week, running their record to 10-4 heading into the New Year. The CCHS teams were scheduled to play at Van Buren County last night. The Lady Bulldogs lost a close battle to Class AA White House, and easily defeated region foe Trousdale County at the Nera White event.     
NERA WHITE EVENT
White House…………………56
Lady Dawgs………………….49
The Lady Blue Devils eked out a close win thanks largely to a six-point scoring margin in the third period.  The two teams outscored each other by three points each in the first and second quarters, resulting in an 18-18 halftime deadlock. White House took control of the game with a 19-13 third-quarter scoring margin, and held off the Lady Bulldogs to take the win, their third of the year. Amelia Kirk led nine CCHS scorers with 16 points, while Rachel Burnette added nine.  LADY DAWGS (49) – Kimes 2, Burnette 9, Kerr 6, Key 5, Kirk 16, Moore 4, E. Ogletree 2, S. Ogletree 2, Roach 3. 
•
NERA WHITE EVENT
Lady Dawgs…………………76
Trousdale Co……………….44
The Lady Dawgs rebounded from the earlier loss and put together one of their best offensive outings of the season to get their 10th win of the season. CCHS scored between 17 and 22 points in each quarter in a consistent output, and held the Lady Yellow Jackets to only five points in two quarters to win going away. The first quarter was a shootout, as the two teams combined for 41 points, with Clay County holding a 22-19 lead.  The Lady Dawgs took command of the contest with a 17-5 second quarter margin to lead by 15 at the half, and put the game completely away with an 18-5 bulge in the final quarter. Sarah Ogletree (13) and Karlie Watson led the CCHS scoring with 13 each, and were joined in double figures by Kirk (11). Twelve Lady Bulldogs hit the scoring column.  LADY DAWGS (76) – Brown 2, Watson 13, Burnette 6, Roach 5, Hix 6, Kerr 5, S. Ogletree 13, Moore 6, McLerran 2, Kirk 11, Kimes 4, Key 3.