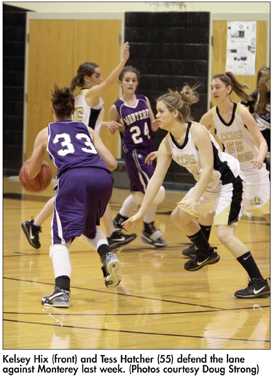 Statistics & Information By MICHAEL MILLER, HORIZON Correspondent
The Clay County High School girl's basketball team notched two district wins this past week defeating Pickett County and Monterey on back-to-back nights.
Last Monday night in a close battle versus the Lady Bobcats, Sarah Ogletree and Sydney Roach both dropped in 20 big points to lead the Lady Dawgs to an overtime victory.  The following evening they were again the leading scorers in a win over the visiting Lady Wildcats.
With the pair of wins, CCHS improved to an overall record of 16-3 and finished the week above .500 in District 7A with a 3-2 mark.
Like the boys, the girls' game at Macon County last Friday night was postponed due to inclement weather.  They were scheduled to play Pickett County again Tuesday night, Trousdale County Thursday night, and Gordonsville on Friday night this week.
Lady Dawgs…………..67
Pickett County……….65
CCHS played host to Pickett County Monday night, January 25 and they came away with a close two-point victory in overtime behind 20 points from both Sarah Ogletree and Sydney Roach.
Despite an awesome 39-point showing by Terrah Garner of the Lady Bobcats, the Lady Dawgs held on for the win.
CCHS lead by 17 at the half, but Pickett County came out strong after the break outscoring the Lady Dawgs 26 to 11 in the third quarter to cut the lead to a bucket.  Regulation ended with the score tied at 57.
In the extra period, Clay County scored an additional 10 points to take the big 67-65 win.
LADY DAWGS (67)-S. Ogletree 20, S. Roach 20, R. Burnette 14, C. Cooper 6, A. Brown 5, K. Kimes 2.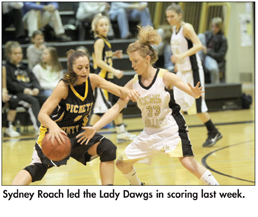 Lady Dawgs…………..44
Monterey………………28
Sydney Roach's 18 points paired with 10 from Sarah Ogletree helped the Lady Dawgs come out with a 16-point win over visiting Monterey last week.
CCHS jumped out to a 17-4 lead after one and they never looked back.  Duplicating the same tally in the second period, they went into halftime with a 34-8 lead.  Despite only scoring a total of 10 points the rest of the game, the Lady Dawgs took the 44-28 victory.
LADY DAWGS (44)-S. Roach 18, S. Ogletree 10, R. Burnette 7, M. Hamilton 4, K. Kimes 2, C. Cooper 1, A. Brown 1, T. Hatcher 1.