By THOMAS P. WEAVER HORIZON Editor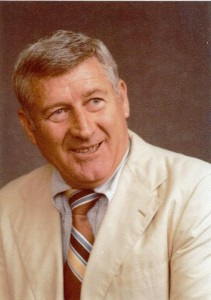 CELINA-Longtime legendary coach, respected educator, and inspirational community leader John Teeples passed away due to complications of heart disease Tuesday, June 5 at the age of 86 leaving behind a legacy of positive influence on the lives of not only athletes, but all people here and beyond.
A plaque declaring Clay County High School's football field as Coach John Teeples Field installed in 2008 best describes his contributions to local sports lore and the community.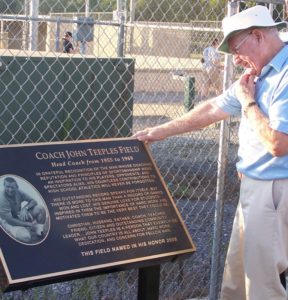 "Christian, husband, father, coach, teacher, friend, citizen, and outstanding community leader… John Teeples is a person that exemplifies what our country is all about:  hard work, dedication, and concern for fellow man," the plaque says.  "In grateful recognition of the man whose coaching reputation and principles of sportsmanship were an inspiration to his players, opponents, and spectators alike.  His countless contributions to high school athletics will never be forgotten.
"His outstanding record speaks for itself, but there is more to this man than a record of games won and lost.  His genuine love for students inspired in them the importance of hard work and motivated them to be the very best they could be."
Not only was Teeples the school's head football coach from 1955 to 1969, he also served as head coach in every other sport at Celina High School, without assistants, until 1966, retiring from coaching in 1970.
His football teams won five conference championships and went to five bowl games (pre-TSSAA playoff system), his girls basketball teams won three district championships, and both the girls and boys basketball teams claimed district titles in 1964.
Teeples also coached 14 players who went on to become head coaches in various sports, including one who coached at the collegiate level.
He also produced several players who continued their careers at the next level, including Charles Joseph Vaughn-Kentucky, Earl Davis-UT, Bobby Westmoreland-WKU, Bernice Scott-TTU, James Capps-WKU, Jack Napier-TTU, Russell Richardson-TTU, Larry Austin-TTU, and Mel and Mayfield Brown-Castle Heights.
The humble Teeples never took credit for the accomplishments of his teams and was quoted several times giving his players all the glory.
"We had some of the best athletes around," he said as he was inducted into the inaugural class of the Clay County Sports Hall of Fame last year.  "I want to thank all of you athletes, because according to these people, you made a pretty good coach out of me… good athletes make good coaches.
"I had a great, great ride and today you've made an old coach very happy.  Thank you."
The same year the field was dedicated in Teeples honor, several of his former players surprised him with a gathering called John Teeples Day where many speakers, including Nashville's WSMV television sportscaster Rudy Kalis, offered what former HORIZON sports editor Kevin Donaldson described as "a litany of praise" for the coach.
After hearing from those in attendance, Teeples took the podium calling the day the "most gratifying thing" that happened in his life.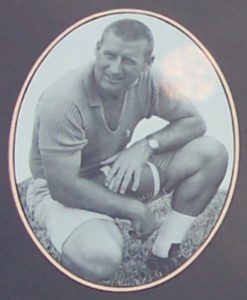 "You've overwhelmed an old man," Donaldson quoted Teeples saying.  "This is the most gratifying thing that has happened in my life.
"I've always loved you people as family… you've always been family to me and as far as I am concerned, you're the best people in the world," the coach continued.  "You made a pretty good coach out of me."
"One of the greatest things we can do is to leave behind something that's a big part of our life," Kalis said in Donaldson's story.  "The greatest attribute you can have is to touch people's lives," something Coach John Teeples made his priority every day.
Outside sports
As a respected pillar of the community here, Teeples was also an influential figure outside the sports world.
He served in the U.S. Navy during World War II, was a retired teacher and State Farm insurance agent, and was a former public servant holding office as a Clay County commissioner.
His body of work also included volunteering for many causes, including the Lion's Club and the American Legion where he served as post commander.  He also was an active member of the Celina Methodist Church.
Teeples was preceded in death by his wife Betty and is survived by his only son, Pat.