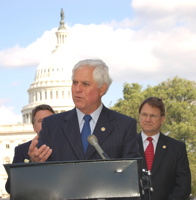 PALL MALL (TN)-Congressman Lincoln Davis announced last week he will not be a candidate for governor in 2010.  
Davis is a former state Rep. for the 38th District, which includes Clay County.  
"After discussions with family and friends, and spending some time alone in prayer, I have come to the conclusion that I can be of better service to the state I love by remaining in the U.S. House of Representatives," Davis said in a statement issued by his office. 
"Anyone seeking a higher office has to consider not only what they can do in their new position, but what they give up for the people they represent.  As a new member of the House Appropriations Committee, I will have a significant opportunity to practice fiscal responsibility of our nation's finances and assure the priorities of my rural constituents are heard loud and clear," Davis said. "This recent appointment is an opportunity for the district I represent that I could not easily turn away from. Moreover, I can continue making sure Oak Ridge National Lab, Arnold Air Force Base, the University of Tennessee Space Institute and other regional needs have committed representation in Washington."
Davis said he believed "our future Governor will need to be a good manager of our state's resources, be a good ambassador, and surround him or herself with people of good character. Additionally, our State Constitution says that every child should be afforded equal access to a good education, which I hope will be the centerpiece of the incoming administration.  Governor Bredesen has done an exceptional job given the mess he inherited and our current economic troubles.
"My decision not to run for Governor does not take away from my unflinching commitment to the state of Tennessee, where I have spent my entire life," Davis said in the statement. "I will continue to travel the state, and seek out ways for me to best serve the people of Tennessee."
Davis is entering his fourth term in Congress.  He is a member of the House Appropriations Committee, where he serves on the Subcommittee for Agriculture and Subcommittee for Energy and Water Development.  Additionally, he is a member of the House Science and Technology Committee, where he serves on the Subcommittee for Energy and Environment and the Subcommittee for Investigations and Oversight. Davis is widely considered to be one of the most independent members in the U.S. House of Representatives.