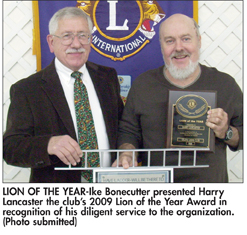 CELINA-Late last year the Celina Lions Club, which has been serving Clay County for 57 years, held their Christmas banquet and awards ceremony naming the 2009 Lion of the Year, Citizen of the Year, and awarding their annual scholarship.
The Lion of the Year Award was presented by Ike Bonecutter to new member Harry Lancaster in recognition of his diligent service to the organization. A club representative said "Lancaster has participated in all Lion's activities since he became a member and his dedication has not gone unnoticed."
A nursing scholarship was then presented by Paulette Scott to Emily Mahaney, who is enrolled in the licensed practical nursing program at Tennessee Technological Center in Livingston. 
Before the gathering ended, Dianne Morrison presented the Citizen of the Year Award to Ike Bonecutter, who was recognized for "all of the hard work he does in Clay County especially that which is associated with the Roller Coaster Yardsale," the club member said.
The Lions Club member also said "we would like invite new members, who are willing to give of themselves, to join" anytime.