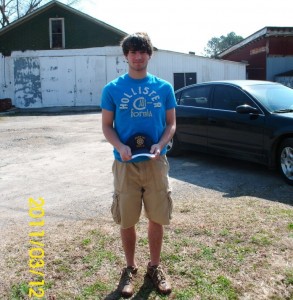 CELINA-Taylor Brown, a 14-year-old eighth-grader here at Celina K-8, recently began an effort to lend a hand to the servicemen and women of the 278th Infantry preparing for combat in Camp Shelby, MS, but his efforts ended up helping a local group here after a generous donor single-handedly took care of those being deployed to Iraq.
"I was given a dollar bill and challenged to help someone in need with that dollar," Brown said in a letter he penned to get the word out about his fundraising campaign.  "A dollar isn't a lot, but if I can make that dollar grow, I can help someone.
"In the spirit of giving, I'm asking you to put a dollar with mine and help it grow."
Those words worked to the tune of a return of more than 100-fold, but when it came time to present the money to his chosen beneficiary he learned of the other donor.
"Thanks to the generous donor, the money needed for the 278th Infantry was provided," Brown, who is the son of locals Steve and Tiffany Brown, said.  "Therefore, I held the money I helped raise until I could find another group to give it to.
"I was really touched by the recent work of the local American Legion when they placed crosses in our town honoring our veterans on Veterans Day, so I gave the money that had grown from one dollar to $138 to Mr. John Teeples."
Teeples is the president of the local American Legion Chapter and Brown's efforts will now help fund next year's display of crosses.