NASHVILLE-Local youth Ali Smith was the winner of Farm Bureau's Kids Captain promotion leading to her chance to 'rub elbows' with the captains of the Tennessee Titans football team here before a game last year.
Smith is the daughter of Chris and Mandy Smith of Celina, and she participated in the pre-game coin toss at the Titans home game against the San Diego Chargers on Christmas night here at LP Field.
She was selected at random from names collected at Farm Bureau insurance offices throughout the region, including the one here in Celina–where the winner came from.
Smith was given four tickets to the game, a Titans jersey, exposure on the LP Field jumbotron, a "Farmer Charlie" hat from the insurance company, and photographs of the event.
"It was a once-in-a-lifetime thrill for Ali," Farm Bureau local agent Mark Ashlock said.  "Everyone in the Titans organization treated her like a special friend.
"A Titans' coach even gave her brother Aiden a football used by all the players during warm-ups–it was a great thing to see for all of us and I'm proud we have chosen to sponsor the program."
One lucky child from each of Farm Bureau insurance's 10 sales regions was chosen as the Kids Captain for each of the Titans' home games and the company plans to continue the promotion next season.
They reminded residents here to watch for announcements about next year's registration, because children in first through fifth grade are eligible to win.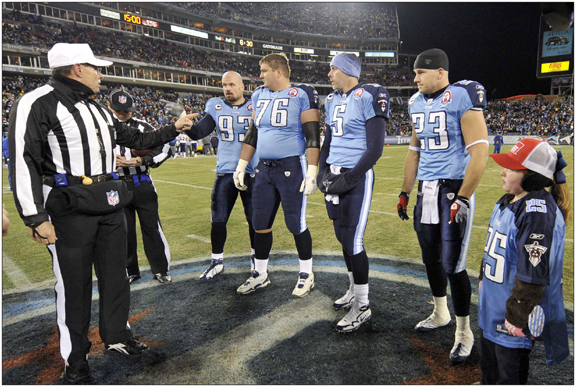 CAPTION:
ONCE IN A LIFETIME THRILL-Local youth Ali Smith was given the chance to step on the field for the coin toss of the Tennessee Titans home game versus the San Diego Chargers by Farm Bureau's Kids Captain promotion. She is pictured with Titan players (l-r) Kyle Vandenbosch, David Stewart, Kerry Collins and Donnie Nickey.