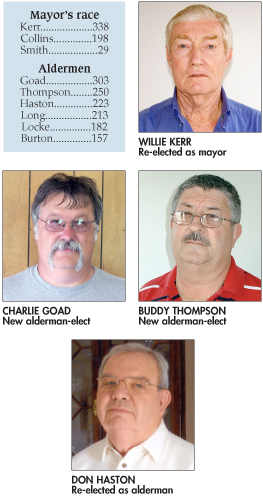 CELINA-Willie Kerr received just under 60 percent of the vote in the mayor's race to win re-election to the city's top spot here last Tuesday, while only one incumbent was re-elected to the city's three-man governing body.
Kerr received 338 votes (59.82%) in the mayor's race, while challenger Donald Collins got 198 (35.04%) and Carrol Smith received 29 votes (5.13%).
Incumbent alderman Don Haston was the only one of the trio vying for re-election who retained his seat.  He narrowly kept his position by 10 votes over longtime public servant Donnie Long.
Haston received 223 votes versus Long's 213 to claim the third spot on the board.
Political newcomer Charlie Goad was the top vote-getter with 303 and will carry the title of vice-mayor moving forward, while former mayor and alderman Buddy Thompson will be back in familiar territory as the second-leading vote-getter among the alderman garnering 250 ballots.
Like Long, incumbent alderman Joey Locke fell shy of re-election with 182 votes, while Pat Burton received 157 in her second try at the position.
Kerr will be serving his second four-year term as mayor and said he considers "it an honor and privilege to serve" the city at the position.
"I will continue to work with our citizens, taxpayers, elected officials, and city employees to make Celina the best it can be," Kerr said in a thank you message published is this week's HORIZON.  "We have had many challenges in the past, and we will continue to have challenges in the future.
"Working together, we can meet them."
Haston won his third term, while Thompson will have the chance to add four more years to his 20-year city government career.
A total of 568 voters cast ballots in the election representing only 43.83 percent of the electorate. Just shy of 200 ballots were actually cast on election day, while 369 came via early or absentee voting.