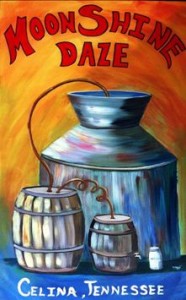 CELINA-After initially being held in the spring, organizers of the annual Moonshine Daze festival announced Monday they have moved this year's event to Labor Day weekend, August 28-30.
"In the past, the weather hasn't been kind to us," an event organizer explained.  "So, we did some research and found out August and September were two of the driest months and decided to have it on Labor Day weekend this year in order not to conflict with any other event going on here in the county.
"Rain has caused us problems in the spring and we are hoping we can dodge it this fall."
The Moonshine Daze committee is also looking for volunteers to help with this year's event and they explained they needed help from people from all areas.
"We need volunteers to help us make this a great event this year," they said.  "Anybody with interest in any areas would be welcomed."
The organizer said planning sessions would be held weekly through the weekend of the festival.  Those interested in offering their services should contact the Clay County Chamber of Commerce at 931-243-3338 or call 931-243-3661.
See a future HORIZON for more on the upcoming Moonshine Daze festival as it becomes available.