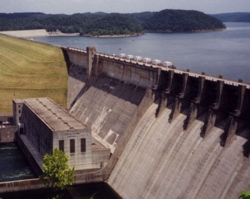 The most critical section of the wall at Wolf Creek Dam will be completed by October 2010, the US Army Corps of Engineers Nashville District has announced.
"We conducted a detailed analysis of risk factors that impact construction schedule," stated Lt. Col. Lindstrom, Nashville District Commander. "The analysis clearly demonstrates we could optimistically complete the work in Critical Area 1 by the summer of 2010; however, risks to construction such as drilling rates and hydromill performance will most likely drive the
completion of this part of the dam until October 2010."
Completion of Critical Area 1 (the section where the earthen embankment meets the concrete dam) is important because it will increase the safety of the dam structure that mitigates most of the flood risk to Burkesville, Celina, Carthage and Nashville, among other population centers.  The Corps will also be able to implement the pool level decision-making process that could lead to an incremental increase above current levels once the wall is completed in Critical Area 1.  Increasing the pool level will benefit hydropower, water supply, water quality, recreation and navigation for the entire Cumberland System.
The Corps announced in October 2007 that lake level considerations at Wolf Creek would be based on completion of structural remedial measures and validated by performance indicators and continued stability and improvement in the project.  Performance is based on instrumentation data, observation, and verification drilling and testing results.  This decision-making process prioritizes dam safety.
Prior expectation was that installation of the concrete barrier wall would be completed in Critical Area 1 by April 2010.  Completion of this milestone would have allowed the Corps to apply its pool level decision-making process at that time. While the Corps is revising the completion schedule for Critical Area 1, there are no significant changes to the foundation itself.
"Every time we drill into the foundation at Wolf Creek Dam, we learn more about the condition of the limestone hundreds of feet underground," said David Hendrix, the Corps' Project Manager.