CELINA-The annual Dawg fight tomorrow night between Clay County and Red Boiling Springs promises to have a lot more interest than in some years past.
The two squads bring identical 2-1 marks into the game and are in search of a playoff spot in the newly-revamped 1A classification. Both teams are also 1-1 in region play on the season, each having lost by a wide margin in their last outing.
RBS snapped its 60-plus game losing streak in a season-opening win over Oakdale, dominating the action in that contest. They topped Oakdale 28-12 and led 28-0 heading into the final quarter. Quarterback Cody Dickens scored twice in that game, while Shelton Watson and Brandon Kelly added TDs. Red Boiling rushed for 210 yards in that game. 
Red Boiling kept its early-season record perfect the next week with a thrilling last-second region win over Pickett County. RBS topped the Bobcats 23-22 on a 24-yard scoring pass from Dickens to Watson with less than two seconds left in the contest. Kelly added the huge PAT to push the RBS record to 2-0.
Things changed last week for Red Boiling, with Watertown topping them 50-0, which was also the score at intermission. 
On the season, Kelly, Dickens, Watson and Ben Halsell have provided most of the offensive spark for Red Boiling, according to Nashville Tennessean statistics. Watson has 26 rushes for 101 yards, and has also caught 7 passes for 110 yards and that winning score against Pickett. Kelly had a 100-yard rushing night against Pickett, while Halsell added 72 yards. Dickens rushed for 55 yards against the Bobcats and had 77 passing yards. RBS had 233 yards on the ground against Pickett. 
Clay County's season has been quite similar: a non-region 26-16 win over Taft Youth Center to open the season, a crucial 13-10 region win at Monterey, and then a 58-0 region loss to Friendship Christian, ranked fourth statewide in Class 2A in the most recent Associated Press poll. The Commanders led Clay County 51-0 at the half. 
CCHS has displayed a balanced rushing attack early in the season on offense. Senior Shawn Garrett has 183 yards on only 11 carries, gaining all but three of those yards in the big Monterey win. Sophomore Nick Cox has been the workhorse of the early season, carrying 28 times for 152 yards. Senior Justin Owens has 150 rushing yards on 19 carries. 
Garrett has also hauled in a pair of scoring passes from first-year starting quarterback Marshall Burch, covering 30 and 35 yards. Burch's first three completions of the season (and his career) all went for TDs in the win over Taft.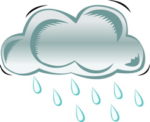 The winner of the Dawg fight will continue a march for a playoff spot, but the loser will almost certainly be on the outside looking in when November rolls around.
The game could be played in inclement conditions, with a 60 percent chance of rain forecast for Friday into the evening. Rain has been falling steadily across the Upper Cumberland since Tuesday, with some areas receiving between five and 10 inches of precipitation.